Nikon Coolpix AW100 [Best Rugged Compact Camera]
Nikon's first rugged, waterproof (and more) digital camera, the AW100 is submersible to 33 feet, immune to drops of about 5 feet, freezeproof and as near to being dustproof as we can ascertain.
That makes it just about ideal for outdoor / adventure sports applications! It's 16 megapixel backlit CMOS sensor gives the best IQ of all the current batch of such cameras — such as it is; IQ is still not the strong suit of this genre of photo-making tools. There's full HD video, a 5x zoom lens, 3-inch LCD display, built-in GPS. It's also got a decent burst mode – 7.1 fps – for 3 frames. All said and done, this is the one to pick if you're headed out on a camping / river rafting / snorkeling holiday.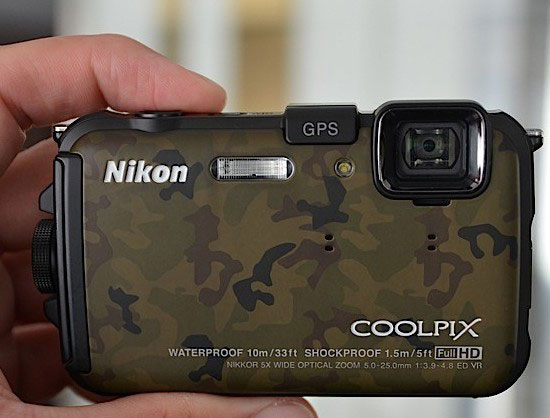 Nikon Coolpix AW100 Features
16 Megapixels – best image quality of all the waterproof cameras. Even though IQ is soft for this entire class, the AW100 is the best of them all.
For best results, do not exceed ISO 800.
5 X Optical Zoom.
3-inch LCD Screen.
Full HD Video.
Waterproof to a depth of 10 metres.
Shockproof if dropped from a height of upto 1.5 metres ( 5 feet).
Full HD Video.
GPS.
Lithium-ion battery.
Best battery / SD card compartment locking arrangement.
Four colors including 'camouflage'.
It's price has crashed, now that the AW110 has been launched in 2013.
Good value for money.
Survives where nothing else will, sans expensive underwater housings.
The Final Verdict
The Nikon Coolpix AW100 – tough, reliable and fast – is a terrific point-and-shoot to have with you when the weather turns nasty. Though the image quality isn't quite up to that of a typical point and shoot camera, it's the best that a rugged compact can currently offer. Decent 11×14-inch prints are often possible — few would want more.
A little practice on how to get the most out of it will pay off in the wilderness – or on your rain-soaked monsoon street shooting spree. Give it a try; we don't think you'll come away disappointed.
BTW, which one suits you the best?