Nikon D3200 [Best Entry Level DSLR]
The second on the list is the 24 megapixel Nikon D3200.
It could be the ideal family and vacation camera for many. Photographers in Third World countries can, and will, happily use it for everything, from weddings to studio work to news coverage. It may be light but it's not flimsy, not by a long chalk.
This camera is all muscle, no fat. It represents an unprecedented leap forward; a Sony-made 24MP sensor in a starter's camera, its Expeed 3 processor allowing 11MG jpegs + RAW files to be recorded at a decent 4 fps (frames per second). The 3″ fixed LCD is now 921K, brilliant and very detailed.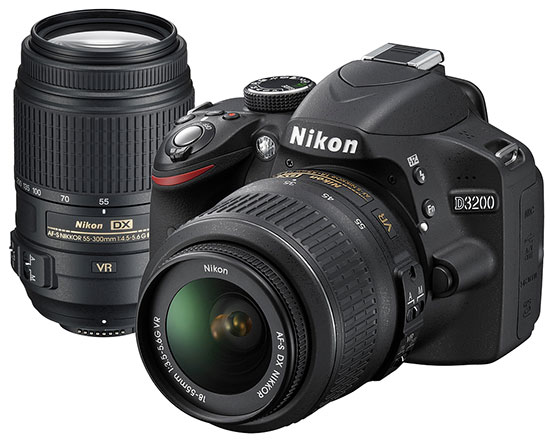 Add-ons include a microphone socket for the ME-1 mike. You can also use a Nikon (or a third-party) dongle for GPS via a receptacle that alternatively accepts the MC-DC2 wired remote that allows time exposures, BULB etc. Long exposures recording star trails are possible. Though it lacks auto bracketing, it's easy to bracket using manual mode.
Stereo sound recording, autofocus in movies with manual override. It's perfect for the new breed of vacationers who shoot movies for friends back home, but want great stills as well. The pop-up flash works great, too. There are front and rear receptors for the inexpensive ML-L3 infra-red remote, just like the D5100.
Nikon's venerable F mount gives the D3200 the freedom to use almost any Nikkor lens, but only the AFS ones will work to their fullest capacity. The 1.5 crop factor, coupled with some great teles like the 70~300 VR or the lighter, more economical 55~300mm zoom-Nikkor (often part of a kit offering) will allow great bird / wildlife pictures. I have the latter, ask me.
The camera's success is also because its native ISO range extends from 100 to 6,400. A bit noisy at the top setting, perhaps, but nothing that a good noise reduction program can't handle; in-camera RAW processing for those who don't want to do it on a computer. The high ISO capability makes low light pictures easy, even with the VR 18~55mm f. 3.5 – 5.6 kit lens that comes bundled with it.
The pentamirror viewfinder shows 95% of view, which I always advocate for beginners, since they are yet to learn how to frame a tight shot. A little leeway is good. Cropping is easy, you have ample detail leftover even after a 50% crop.
The camera itself weighs 505 gms bare—no card or batteries. Fully loaded, its 555 gms, same as its predecessor. That's so light that another two or three lenses and a SB-700 Nikon speedlight won't send you to the chiropractor. So little weight, so much power, such amazing picture quality — no wonder DxOMark gave it a very high ranking.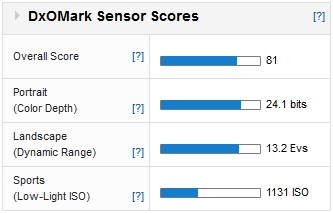 A beginner moving up from a compact camera will be thrilled with this little powerhouse. For first-timers to photography, an enhanced Guide Mode makes creating great photos a breeze. An easy-to-understand menu coupled with a bit of practice, and even a newbie could start making photographs that will stand the test of time.