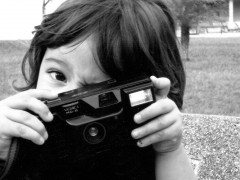 Photographing kids and children is almost like re-living your life. Charming eyes, notorious acts and fun-filled games attract everyone towards the innocent world of kids. Each and every act of their day to day life is worth capturing. Even though it is difficult to pose them, their natural poses can give you lovely surprises. Here are 80 stunning examples of child photographs, all trying to portray the liveliness and beauty of childhood. Also, check out the tips on how to photograph kids and share your results with us.
Goldilocks

Mac Youngin

Happy Happy Joy Joy

Joy

Self-promotion warning: My own son here.

Bite My Lip

Baby Bathing

Untitiled

Another Smile!

Viola

Dream Of Day (classic example of black and white magic — check out tips for taking amazing b&w shots here.)

Dream Of Day

Emily

Flower Child!

Even Kids Contemplate

Daniel (awesome example of adding contextual backgrounds)

Another photograph of my son

Colby

Lisbeth

Here Comes The Sun! (Aha, the window light magic)

Pretty Miss E

Eva, Tiny Thoughts

Levi Wants To Be Your Teddy Bear

Future Filckerites?

Oh My God I Look Cute!!

Bathroom Reading

0216

If We Hold On Together

Grazie Italia!

Dreamers Disease

Focused

Karate Kid Meets Flying Mom (perfectly captured action shot — fast shutter speed, continuous burst and few more tips here)

Young Love? (— dare to shoot against the sun)

The Innovative Zoom Lens

Saba ~ II

A Young Mother

Facial Expression (check out the tips to capture the expressions here)

Untitled

Babyfingers (see how beautifully sidelight brings out the textures and add a magical appeal to the capture)

Untitled

Happy Father's Day !!

Richard Eating An Apple

Triplees

Who Dressed You?

Untitled

Moment Of Joy

Protection

Sleep Like A Baby

Geborgenheit (want to know how to get the high key images like this one? Check out the tutorial on high key lighting here!)

Sara

My Niece

This Looks Like Too Much Fun!!!

Where The Treetops Glisten And The Children Listen…

Learning By Copying

A Face For Pictures

If You Smack Me

-9

I've Become A Better Man

Leo And Jen

In Their Car Seats

Sequoia Moves To Stop A Spinning Top

Funny Face

She's Growing Too Fast

Lazy Friday Afternoon

What's At The End Of This Rainbow?

Jeans

Light, God's Eldest Daughter

Sisters

Waiting

Laughing

Proud

Cousins

Hand It To Me

Cohorts

Cute Baby

Hands-on Learning

Being Goofy

Megan Bubble

Click…

Yet another photo of my kid. Peace…

Kids are kids — cute, lively, peppy, naughty and full of life. Have a look at 101 more interesting photographs of kids; busy in their own world of intimacy and innocence.