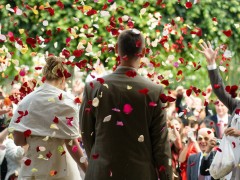 Weddings are lovely. And so are wedding photographs. The couple smiling at each other, the bride getting ready for the auspicious occasion and an air of love in the environment is what gives a romantic cinematic feel to these photographs. But that's not all. It takes a lot of pre-planning, proper backup equipment and ability to strike the level of comfort with the couple to make the photographs you want. And not to forget about the various imaging techniques like beautiful bokehs (check out our article on creating the bokeh effect), romantic lens flare (more on lens flare here), soothing backgrounds, shimmering reflections, etc also play a major role in capturing the aesthetics of the special moment of the couple's life — the wedding.
Here is APN's collection of 55 truly awesome wedding photographs. As you watch these, try to relate the information from our article on how to photograph weddings. You'd be surprised how all this put together can turn you into a professional wedding photographer.
Have you photographed a wedding yet? It's good to experiment with photographing a family wedding as a start. It will give you a lot of exposure in understanding the nuances of wedding photography. Also check out some expert advice by famous wedding photographers.