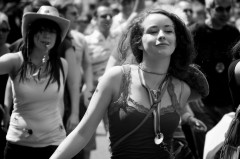 Candid photography is the essence of natural, unposed and simple photographs. Candid shots are unplanned, unposed and unobtrusive. Candid photography lack the subtle formality of posed photographs and introduce an element of mild, unposed, beauty. The candid shots bring along with them a sense of accomplishments; and a thorough walk-down to the memories. Candid shots are best captured either when a person is busy at work or is in conversation or is not attentive to the happenings in the surroundings (when a person is immersed in his own world). The candid shots thus weave a story and add the perspective to the whole lot of captures. Click around at home, in events, on streets, in public places and keep experimenting with your own styles to make a mark with candid portraiture.
Even though it is not a technique, some tips are worth sharing; to get started with great candid portraits. Here's a list of 11 quick tips to help you capture the best off the busy world around.
Act Spontaneously — Spontaneity Is The Key To Great Candid Shots

Candid photography is all about capturing spontaneously oscillating moods and reactions. You thereby need to act quick and shoot at the right moment; to fill in your photographic frame with movement and activities. It is the perfect way of portraying the busyness of the world around you. Candid photography is one such form of portrait photography where you can encounter frequently changing moods and poses and you hardly get any time to prepare yourself to make a great candid shot. This tip comes in handy even when you are planning to capture kids and pets. They are full of energy and activeness; and their natural poses are beautiful. Be ready with your camera, set the required mode before-hand and just go around clicking the natural poses.

Kill The Consciousness To Capture The Best Candid Poses

Your near and dear ones are beautiful; because they are a part of your life and you know them inside out. Most often, we all fail to embrace that beauty on the photographic frames. The reason behind this is — the human consciousness. The awareness of being under the scanner of a camera makes one feel uncomfortable and thus parts you (as a photographer) from capturing the natural poses (the essence of candid photography). To capture the best, unposed and natural shots, try to kill the consciousness. Practice the following tips to part with human consciousness:

Avoid using flash; the flash light makes one conscious.
Shoot from a distance; let your subject be unaware of your presence.
Photograph them when they are busy with their own stuff.

Your Positioning Is Crucial In Candid Photography

You can even take candid shots at weddings (and events), on streets (of people roaming around), at home (click at your family & friends) or while traveling (visiting monuments, shopping malls, amusement parks). At such crowded places, its your responsibility to exercise discipline and take photographs without distracting others (and without introducing distraction/clutter in your photographs). Sometimes you need to come close, be friendly with people around and ask for their permission (to photograph them). At other times you may need to move back and maintain distance (to silently capture the activities taking place in the surroundings).

Use Lights To Your Advantage

The essence of photography lies in capturing the well-illuminated subjects. You can thus use available light (the natural light source) or introduce in the external sources of lights (flash, studio lights, etc); to properly illuminate your subject and induce in the proper exposure (for the camera). Consider the following tips to use the lights to your advantage:

When shooting Indoor: Consider making use of natural lights reflecting off the walls & windows. Also, consider using natural reflectors (like white walls etc for reducing the shadows).
For Outdoor Shooting: When shooting outdoor in the daylight, avoid direct sun (as it overexposes the subject). The soft light (when sun is covered by the clouds), magic light (sunlight at dawn and dusk) and the tree shades (or any other shades) produce mesmerizing effects when shooting outdoor.

Add New Perspective

Introduce the element of uniqueness and interesting-ness in your captures; induce fresh and unusual look and feel. Try to portray the happenings in your own style; distinct from what normal eyes see. Implement your own ideas, break the rules and thus surprise everyone with your candid shots. Try to include the surrounding elements (to add your perspective to the photograph). Go in for natural framing, foreground/background blur or bring the focus-off the subject to create beautiful bokehs.

Apply Some Techniques (Along With Candid Tips)

Let your photographs speak out your professional instincts at photography. Consider applying various techniques learned by you in-course of time (through your photographic experiment and experience). Try your hands on time-lapse, panning, multiple exposures, motion blur; experiment with varying exposure levels or capture reflections, shadows and colors. Follow the composition rules, capture lines & patterns, play with shutter-speeds, ISO & aperture. Consider using various lenses (wide, telephoto, etc), filters, or cameras (compacts, point & shoot and DSLRs). Add unique aspect to your candid shots by applying (or experimenting) these techniques.

Experiment With Camera Modes

Almost all the cameras come packed with several features and modes. Feel free to try out various modes to complement your subject's mood.

Visualize Creative Captures

Creativity flourishes in no restriction zones. Candid photography offers you this freedom — the freedom to follow your heart. Boost your creativity and thus present the masterpiece of art. Visualize the things differently; capture the events and happenings distinctly. For instance, photograph the couple let out free, capture a man strolling alone on the beach, freeze the love of the father and his child, click at the kid looking at his toys or get inspiration from the photo-galleries.

Zoom-in

Most of the times when you are moving around with your camera on streets or at any other public places you have to maintain a distance with your subject. It is advisable to use telephoto lenses under such circumstances and always zoom-in your camera to the fullest (one of the major guidance for portrait photography as well).

Casual Poses (Let Them Free)

While candid photography is all about natural poses, you can jump in action to guide your subject for casual candid poses. Make them pose with comfort to introduce in the element of candid in your pictures.

Keen Observation

You can't make a mark with your photography by mastering any particular camera settings or by using certain accessories. What you need is — to observe your surroundings keenly; to capture the happenings (activities, mood reflects, street crowds, love-hate expressions) which are a part of our daily life but still remain un-captured and capture them with the photography basics you've learnt.
You can visualize these candid photography tips through candid photography examples — take a look at how to capture expressions, mood swings, activities and busyness; the very essence of candid photography.