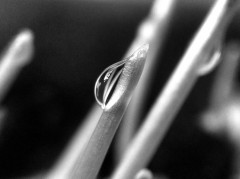 Photography is a blend of various moods. Each and every setting of your camera produces a different effect. As you capture the motion with high shutter speed and obtain narrow DOF with aperture settings, you can add grainy effect to your pictures by shooting them at high ISO. Let me take a minute here to explain what is the ISO. ISO refers to the sensitivity of camera sensor to the light. It is quite similar to the ISO films in traditional photography. Now that the film is replaced by the sensor in digital cameras, ISO simulate this effect by boosting the light amplification with digital circuits. Check out the article on ISO here.
And now let's talk about the ISO effect — the grainy, noisy effect. Even though the 'thumb rule' says "avoid noise and grains", the grainy effect at times add to the beauty of your photographs. Here are 10 examples that highlight the fact that high ISO creates interesting effects.
Note: All pictures used under a creative commons license.
So, next time you are shooting at low light don't worry to shoot at high ISO as it can add to your experience of capturing retro, classy and nostalgic moods.