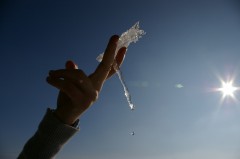 The adage "A picture is worth a thousand words" is the very essence of concept photography. Concept photography is the art of conveying a message through the art of photography. It is the technique used by photographers to divert the attention of viewers towards the happenings — social activities, traditions, disasters, sufferings, emotions, etc. Concept photography thus acts as a medium for spreading the words visually. Concept photography illustrates the photographer's stand on various happenings around him and initiate the flow of expression.
In the digital age, concept photography is an easy way to make money with photography. It is one of the most-selling form of photography on stock photography websites. Be it the web designers or the advertisers, all are interested in picking up the photographs with unique, interesting and captivating concept.
Concept photography often turns out to be an abstract form an idea. Concept photography highlights the concept; the idea conceived by the photographer. It involves the art of reading the photographs in terms of:
The Message: Message is the core of concept photography. When photographing the scene or the subject with an intent to convey a message, look at the dimensions of the scene (or perhaps the subject) and capture the shot from the angle which heightens the sense of involvement and attachment towards the subject / scene.
The Audience: Know your target audience and accordingly proceed towards delivering the message. If you cater to the needs of designers and advertisers, you have to be pretty sure about the commercial aspect of the image (relevance), whilst the art connoisseurs on the other hand would appreciate creativity along with loud and clear message.
The Composition: The framing of the subject and the scene also attaches to the aesthetic value to the image. When photographing for commercial purpose make sure you creatively use the negative space which comes in handy for designers to promote the message textually.
The Purpose: The basic purpose of concept photography for an amateur is to draw the attention of viewers towards his observations. The photographer may be looking for some action on part of viewers or can well capture the image to create an awareness.
Concept photography thus requires you to be creative in your art.  Try varying angles of shooting or various creative photography techniques to arrive at the required speech and tone for your photographs. Let's look at some of the photographs to learn more about concept photography.
La Serena By Pirindao
Abandoned By NeeZhom Photomalaya
Don't Fall… Please.. By Jeff Bauche
A Person Too? The Same Needs And Wants? By .craig
Golden Path By H.koppdelaney
Concept photography is expression and message driven. A strong message and impression help get your concept through.