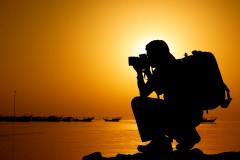 Silhouette is an excellent option for exploring the creative side of photography. Silhouette photography paves way for creating interesting and arresting images. A silhouette is a view of an object or scene consisting of the outline and a featureless interior, with the silhouetted object usually being black. Be it natural light or studio lighting the basic principle for creating amazing silhouettes is the co-ordination of the two principle tones — black (silhouetted object) and the light background.
The silhouetted images are simply compelling. These images convey drama, mystery, emotion and mood. The hidden details of the subject makes room for imagination on the part of the viewers thus resulting in the visually intriguing images. While it is not about color, details, textures or patterns, it strongly and distinctly highlights the strong contrast that prevails between the scene and the silhouetted subject. And here are 6 quick and simple tips to get ready for shooting some amazing silhouette shots.
Also, check out the silhouette photography examples for inspiration and don't forget to share your shots with us.