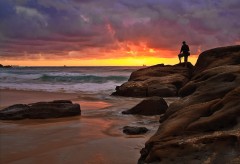 If you love to photograph at night (or even if you are scared), bulb mode by all means is one of the best shooting modes for you. It lets your creative juices flowing. The simple mechanism of holding down the shutter release for as long as you need greatly help in trying out different techniques like light painting or photographing the sun-stars off the city streetlights. There are other creative ideas as well that you can employ by befriending your camera's bulb mode. But as they say first things first, so check out how to use the bulb mode before heading towards the list of creative ideas. I'll wait for you.
Welcome back! Now that you know how to use the bulb mode, its time to check out the cool, creative shooting ideas with bulb mode on.
So, how are you employing your camera's bulb mode?