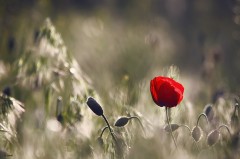 Photography is an art of making the images; either in-camera or off-camera. While playing around with in-camera settings is a good excercise to get great results, going off-camera is equally rewarding. In fact, post processing the images expands your creative horizons. Putting it other way round, adding a little bit of "post" dust goes a long way in turning your photographs to great pieces of artwork. This is what Photoshop masters bet all the time. Dave Cross, the Photoshop trainer at Kelby Training for instance puts forth his commentary for using Photoshop for adding finishing touches:
Take your photography from "Whoa!" to "WOW!" Learn today's hottest techniques used by top creative pros to add jaw-dropping finishing touches to your photographs. Learn to create stylistic edge effects, HDR effects, vignette effects, editable templates, and many other creative finishing touches that will take your photography to a whole new level!
Post processing techniques are a great way to make your pictures pop! Here are 5 such techniques which pros use for creating mood and drawing the viewer's attention to the point-of-interest.
How do you sprinkle the post-dust magic to your photographs? Share your techniques in comments.