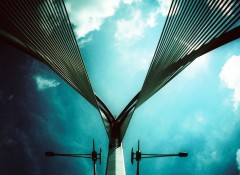 Have you tried out instagram as yet? Amazing filters, cool retro effect and amazing vintage style effects add a classic touch to the photographs. Then there is another iPhone app called Hipstamatic, that brings back the look, feel, unpredictable beauty and fun of plastic toy cameras from the past. Looking at the usage stats, ratings and reviews — people are just going crazy for these apps. The reason being — The Lomo Effect.
The lomo effect is nothing but the imperfect photographic look achieved through cheap toy cameras with plastic lens. The amazing part of the story is that the fan-following of lomography is largely owing to its inherent lo-fi quality. Overly saturated colors, vignetting effect, strange light leaks, lots of noise and grain add dramatic effects to the images. But there is a twist to the tale. When photographing with lomo cameras, expect the unexpected. You never know when will the light leaks, multiple exposures, split lenses and saturated colors work wonders for you.
So, get ready with the lomo camera in your hand and keep your fingers crossed to fill the frame with beautiful effects, like the ones in the collection below.
By the way, did I tell you that you can mimic and replicate the lomo effect in Photoshop and Lightroom as well. When your iPhone and Android powered phones can allow you to do so, there is a whole lot of things you can do in Photoshop and Lightroom. Watch out the stunning examples of lomo photography here and explore more about lomo photography in the following links:
Wow! it's amazing to capture the essence of life that too with a variety of lomo cameras available at Lomography stores. Want to learn more about Lomography; check out the links below: