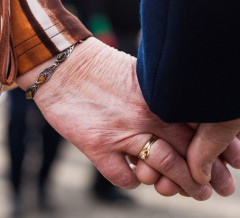 As the time passes by and age goes on adding as numbers, one gains experience and becomes wise. And the sphere of wisdom expands to all edges — be it relationships, emotions or expressions. Advancing towards the older age, people tend to have a life full of real stories — harsh struggles, accomplished dreams and a lot of experience to share with the coming generations.
Just like the charm of kids and peppiness of teens, they too have something special about them. This reminds me of my granny, who is a little stubborn, gets frustrated easily, defines her own fashion statement, nurtures new generations, unites the diverse thoughts, shares her past experiences with a broad smile and above all one thing that makes her all the more beautiful is her genuine expressions and emotions that add subtle importance to her being. Even at this stage of life, she lives life to her fullest — though with some complaints and some unrealized dreams in her eyes.
I had never thought that I can speak about her at length. She is superbly beautiful and a perfect subject to click some of the great photographs — to implicitly portray wisdom, strength of character and a lifetime of dreams. It's not just me, many photographers like Peter Carey love to capture the warmth, lifetime story and moment of truth of elderly people when they are out on a travel photography shoot. In fact, photographing old people marks as the second subject on his list of travel photography subjects. Check out what Peter Carey has to say about it:
Old people. They're everywhere you go but many of us tend to look on by when traveling. And yet, besides young children, I have found the elders of most areas to be inviting, warm souls who are easy to smile.  They hold the history of what has gone on around them and have many stories to tell. And often all it takes is a few moments, a smile and an honest attempt to relate with another human to make that connection so vital to taking good people photos in general.
Likewise, senior citizen portraiture or old people photography forms an interesting subject for portrait photography. Their sparkling eyes, loose wrinkled skin, genuine expressions and striking personality add a photographic tale to it.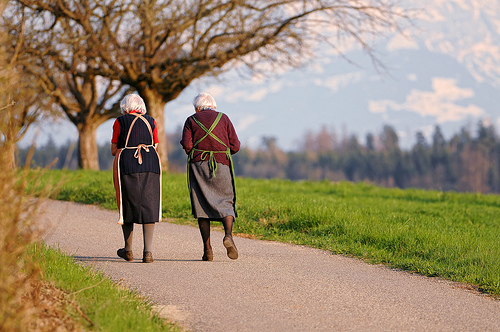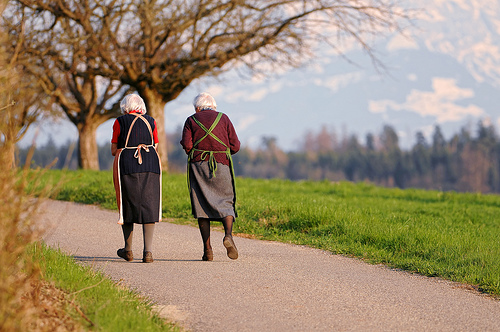 So, here are 7 awesome tips and 35 fantastic photographs to help you capture the best shots of older generations.
7 Awesome Tips For Photographing Old People
Posed vs Casual Shots

Flip the coin and decide for yourself whether you'd love to photograph the formally posed portrait or would like to tell the story through your photographs. If you inform the subject that you are about to click the photograph, they become serious, wear unnatural expression or simply shy in front of the camera. Whereas capturing the shots when the subject is engaged in telling you stories or is busy doing some work make for great shots. Contextual, environmental and family portraiture also works well with old people. For instance, an old lady sewing sweater for her grandchildren, old men talking politics and current state of affairs or grandparents together playing with kids look more naturally appeasing.


Fill The Frame

Get up close, personal and capture the fine details like facial expressions, lines & wrinkles, rugged hands, sparkling eyes, etc to add a unique sense of depth and emotion to image. Even though lines, wrinkles and age marks add character to senior portrait shots, occasionally carrying a soft focus filter helps you in smoothing the harsh details and induce soft, dreamy effect to compliment to make pleasing photographs.

Capture The Expressions

Expressions form an indispensable element of portrait photography. Expressions portray human emotions and add liveliness to the captures. So, here is the quick tip for capturing the expressions — Set your camera on tripod and make your subject laugh, play, sing and feel special. Let them completely forget the presence of camera to capture the moments of genuinity. Also don't forget to focus on the eyes as "Old men's eyes are like old men's memories; they are strongest for things a long way off".

Make The Most Of Naturally Available Light

Try to avoid flash. It acts as distraction in 90% of the cases and almost always ruin the photographs unless you know when and how of flash photography. By the way, utilizing the natural and available light is quite rewarding. While soft, diffused lighting is apt for the glowing skin of old people, occasionally employing harsh lighting and high contrast effect brings out the details in their face and can give a great quality. Also, experiment with side-lighting, window-light and edge lighting to add drama to your captures.


Shoot In Color

Black and white seems to be the first choice for senior portraiture. But shooting in color is far more effective for creating mood and communicating the emotions. Retain the color photographs and convert them to black and white to give them timeless classy effect.

Add Image Effects

Cool lomo effect, rustic sepia touch, nostalgic retro effect or old classic vintage look add dimension to the simple shots of old people. These effects revive a sense of history and revisits all the great memories that come along with it. Open your photographs in Photoshop and play around with right filters and adjustments to get the look and feel that best compliments your subject's expression.

Photograph The Child-like Acts

The old are in a second childhood. Observe them carefully and you will surely come across some of the habits, traits and actions and sometimes inactions which will pave way for some interesting shots, like this one — the seniors all ready to perform at the Mayfest.


Bonus: Don't Think Too Much, Just Release The Shutter

And here goes the last and the best of the advice. Don't think whether the shot will come out perfectly or whether your subject will appreciate your act, just press the shutter release and make a timeless capture of the priceless moment!
35 Fantastic Examples For Photographing Older Generation
So what are you waiting for? Pick up your camera and get ready to take the shots that capture the essence of older generation. Turn on life for them, turn on life for yourself — photograph the funny instances, some cool stuff and serious side of your subject — The Old People.