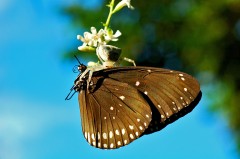 Small, simple and beautiful is the essence of Macro Photography. Close-ups of plants, flowers, animals and tiny insects complement the subjects with beauty and fineness. Getting closer to these subjects is analogous to getting personal with them, to invade their beautiful world filled with plethora of amazing minute details. It reveals beautiful patterns and textures which are not easily noticeable to our naked eyes. The effects created by macros range from softness and delicacy of flowers to attractiveness of those speaking eyes to the spiky tentacles.
Macro Photography lets you zoom into the new world of tiny subjects. It encourages an innovative approach for moving closer to where you belong — "The Nature". Lets get closer to the nature and capture the close-ups. Here are a few tips and tricks that help you experiment and experience the joys of the compact yet elaborate world of macros.
Camera settings: The first thing to do is to tune your camera to the required settings.

Macro Mode: If your camera supports a macro subject mode, switch on to it. The "Macro" mode takes care of all the required settings. It automatically selects the optimum camera settings for you.
Switch Off The Flash: It is recommended to switch the flash off while taking such close-ups. When the flash is fired at such a small range of distance it tends to overexpose the subject and hide all the details. It washes away the fine details and also destroys the subtlety of your subject. Sometimes when shooting tiny organisms, it can chase your subject away (of course after the shot, but you don't want to chase way your subjects).
Aperture priority: If your camera does not come with a macro mode, you can set your camera to "Aperture Priority" and select the widest possible aperture. Thereafter zoom your camera's lens into the subject to capture the fine details.

Extensions & Accessories: To make your close-ups come out perfectly, you can even make use of certain extensions and accessories. Some of the accessories worth mentioning for macros are:

Tripod or minipod: When you set your camera to widest possible aperture, it brings along with it the possibilities of blurring the images due to hand shakes etc. It is recommended to use tripod/minipod to compensate for slow shutter speeds. It can be quite a challenge to get perfect close-ups with hand-held shooting.
Macro Lenses: To attain an excellent macro images dedicated macro lenses should be used. These supplementary close-up lenses allow you to get as close as you'd like – to dive in and explore the finest details.
Extension Rings: To get closer to your subject you can also use extension rings. Extension rings are meant to be fitted between body and lens to reduce the minimum focus distance , with only a minor loss of light.

Things To Remember: While shooting close-ups make sure to not let your shadows cast over the subject as they may cast ugly lines. Also at such small dimensions DOF can pose challenges. Sometimes only a part of the subject is in focus, at other times it's the entire field of view in focus. Experiment and set up you aperture to get the effect you want. And last but not the least, maintain a safe distance from insects etc.
Engage yourself in Macro Photography and explore the world of tiny objects. Impress your friends and enjoy the spectacular beauty of nature through the lens.