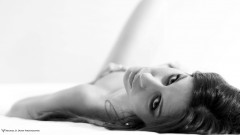 The term boudoir as in boudoir photography refers to lady's private room or sitting area. Revolving around the concept of boudoir, the boudoir style photographs reflect intimacy, sensuality and the beauty of the woman. Boudoir is a popular genre of portrait photography which aims at artistic, tasteful and classic presentation of female form. It is the art of capturing the inner beauty of the woman in its true essence. Boudoir photography moves up a notch to differentiate this art form from erotic sultry notions, which is the general perception of people about this genre of photography. Unlike other genres of photography boudoir is one skill and creativity centric form that requires great responsibility in bringing out the best result. And just like in any art, the quality of your results heavily depend on how much of a perfectionist you are and the attention you pay to details.
Types Of Boudoir Photography
Barring all the conservations about boudoir photography, the essence of this genre of photography basically lies in the artistic expression and inherent beauty and femininity of a woman. Thus the challenge lies in engaging your creative vision to bring out the best of a woman — something that is an accurate reflection of her self-image and a form she will want to be appreciated as.
While boudoir is a pretty specific genre of photography, like any other genre, it can (mostly arbitrarily) be classified into subtypes. So even though there is no stark classification, here are some of the common categories offered by boudoir photographers.
Intimate Boudoir: Intimate boudoir can be interpreted as a theme based boudoir photography. Either as anniversary gift albums, birthday gifts or Valentine's Day gifts, the boudoir style photographs are a great way for the client to express themselves sensually to that someone special in her life.
Pin-Up Boudoir: Pin-up boudoir reflects the retro styled glamorous shots based on boudoir theme. These images are mainly used for wall-hangings or personalized calendars.
Bridal Boudoir: Bridal boudoir is particularly becoming popular these days with photographers including boudoir photography in the wedding packages. Brides often request for an album of boudoir style photographs made as a present for their soon to be husbands.
Boudoir For Couples: For long, boudoir photo-shoot encompasses around the feelings, expressions and privacy of women alone. With time, the entire look of boudoir photography has begun to change. Now it also makes room for framing the bond of relationship shared by the couple.
Maternity Boudoir: Maternity boudoir is about beautifully capturing not only the pre-baby body changes but also emotions and feelings of the motherhood.
Challenges Associated With Boudoir Photography
The art of boudoir photography rests on the mutual consent and understanding of the photographer and the client. The two most important ingredients that make up for a great boudoir photo-shoot and smashing images at hand are self confidence and photographer's skill at handling technical as well as non-technical issues like understanding your client's fears, desires, feelings she wants to convey and the capability to direct the client for a confident photo-shoot. It is important to overcome these challenges in order to be able to deliver what your client wants.
Forming a Portfolio: For something requiring a great level of skill, care and a professional level of teamwork, clients always request a portfolio. If you are just starting out, you may want to hire models and do a few boudoir sessions with them; to be able to present your skill and craft with all creative concepts you can offer. Also many a times the clients may not allow the work to be used in your portfolio for privacy reasons.

Understanding Your Client's Fears: Boudoir photo-shoot is a private photo-shoot and requires the subject to overcome her inhibitions and pose in front of a stranger and the camera with confidence. She needs to give her best without any hesitation or fears. Some clients may be pretty confident to begin with, other need their fears alleviated and take some getting-used-to before they are ready for a session. And like all clients there will be those who know what they want and others who can make use of your experience as a photographer and as an artist.
Establishing A Rapport With Your Client: Understanding your client helps you in setting your limits and gives you cues about the client's expectations. This will help you in establishing the rapport with your subject. Make your client feel comfortable in front of you as well as the camera. Crack a joke, give her time to be on her own, take a few sample shots and make the environment light. Instill the confidence in her to be able to come up with the shots which express her inner self. Low confidence and uncomfortable environment will only add to sub-standard results. Be friendly, motivate her, give clear directions for poses and encourage her often.
Getting Good Results: While portraits allow you a great choice of location, backgrounds, dresses, etc. the concept of boudoir essentially rests on minimalism and the natural physical beauty of the subject. There are no perfect figures, colors, no professionally enhanced bodies etc. You have to bring out the best using your creativity and your vision as a professional photographer. The artistic expressions in serious forms of photography depends heavily on the dramatic effects of light. Boudoir photography is no exception to this and is one genre where light plays a central role in defining the figure — contours and form of the subject. Thus playing with low-key, high-key lighting or black-and-white can be a game-changer. Don't count on post-processing to get the results. Take care of the lighting during capture and post-processing should only be used for finishing and less for concealing the flaws.

A fine-art form like boudoir requires a great attention to detail, great imagination, confidence and surety on the photographer's part to be able to bring out the best in the subject and come up with impressing results. Check out the beautiful boudoir photographs here. It's a session which is the concept of the client but directed by the photographer. Understanding the clients requirements, refining the ideas and achieving the results in fact requires great tact, skill and experience. Check out our article on boudoir photography tips for making cool and beautiful boudoir style photographs of your client.