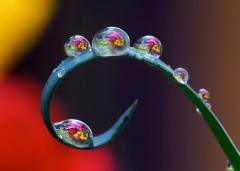 Experimenting with new ideas opens up ways for getting creative at what you do. Similarly breaking the bounds and photographing new themes, subjects or say visiting new locations marks the beginning of photographic explorations and excursions. You can get started at home — pick up your favorite book from the book shelf and feature it as the bestseller or give your creativity a kick-start with photographing the vital element for all known forms of life — H2O (Water).
The water droplets can be an awesome subject to shoot. It's varied shapes, colors and dynamic appeal will definetely pay off all your hard work. A word of caution here, "Be careful, you can get addicted!" Quite right, once you get started with capturing the water droplets, you will be surprised with your own results and will try to capture more of it —  amazing shapes, amazing effects and amazing droplets. And now it's time to check out some cool ways for experimenting with the amazing subject — the water droplets.
Do you also love to photograph the water drops? Let's make this list to 10. Add your creative ideas and prolific tips or simply drop by to share your experience with photographing water droplets.