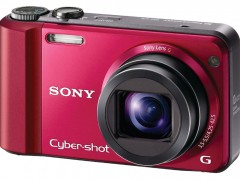 It was almost by accident, as it were, that I returned to photography after a gap of almost a quarter of a century. I'd bought a Samsung notebook online, and had been intrigued to discover a little stowaway in the parcel — a freebie in the form of a Samsung pocket digital camera!
I wasn't too impressed by its appearance. I had last used some pretty solid Nikon SLRs and some of the sharpest lenses in 35mm photography, including the legendary 105mm f2.5 tele-Nikkor and the laser sharp 55mm f3.5 micro-Nikkor.
So after a quick scan of the user's manual it didn't need much guessing. I loaded the battery and card (they share the same compartment at the base, next to the USB / tripod socket), set the ISO to its base setting and I was in business. Out there, in the brilliant sunshine, began a journey that was to whisk me off to hitherto unexplored dimensions of imagery, digital being far more responsive a medium than film — a journey that was to transform the way I looked at photography as a creative medium of expression.
Undeterred, I loaded the jpegs onto my hard disk and had a closer look at them. Given the amount of post-shooting 'darkroom' manipulation possible, digital imagery relegates film firmly to the background, a statement that may raise howls of protest from its aficionados (and yes, they are still very much around).
I didn't know whether to laugh or to cry: the little Samsung's jpegs seemed to jump off the monitor. Little did I realize that as I cut my digital teeth on this miniscule marvel I was putting myself in harm's way, given the fact that the photography bug had never quite exited my system.
It was fascinating, the way images appeared to glow on my PC's monitor! A touch of tweaking here and there, and voila! I found myself gazing at some of the sharpest, most well exposed images I had ever seen. I was hooked on digital and decided to trade up.
After getting a decent bargain for the Samsung, I headed for the nearest Sony outlet. I'd heard that the Cybershot range of compact cameras were vastly competent.
1st May 2011: Ten bucks short of fourteen thousand units of legal tender changed hands and I became the proud owner of a Sony Cybershot DSC-H70, all 16.1 megapixels of it.
Key Specs Of Sony Cybershot DSC H70
It is customary, in equipment reviews, to cover the specifications first, in order to lay the basis for further exploration. I don't think readers will have too many problems with that, so here we go —with the specs first.
| | |
| --- | --- |
| Key specs | Sony Cyber-shot DSC-H70 |
| Price (MSRP as on May 1, 2011) | Rs.13,990.00 |
| Dimensions (WHD) | 4.1 x 2.3 x 1.1 inches (102x58x29mm) |
| Weight (with battery and media) | 198 gms with battery and 4GB SDHC card |
| Megapixels, image sensor size, type | 16.1 megapixels, 1/2.3-inch CCD |
| LCD size, resolution, information | 3-inch LCD, 230K dots, grid lines and three types of display possible |
| ISO | 80 – 3200 |
| Viewfinder | None |
| Lens (zoom, aperture, focal length) | 10x, f3.5-5.5, 25-250mm (35mm equivalent) |
| Lens – branding, lens cap | Sony G lens, multicoated, in-built shutter |
| File format (still/video) | JPEG/MPEG-4 (MP4) |
| Highest resolution size (still/video) | 4,608×3,456 pixels/ 1,280×720 at 30fps |
| Image stabilization | Yes, optical and digital (gyro-sensor) |
| Battery type, CIPA rated life | Lithium ion rechargeable, 200 shots |
| Battery charger | External charger supplied |
| Storage media | Memory Stick Pro Duo; SD/SDHC/SDXC cards |
| Bundled software | Picture Motion Browser 5.5, PMB Portable 5.0 (Windows), PMB Portable 1.1 (Mac), Music Transfer |
| Cables supplied | Combined USB-cum-AV out (normal TVs) |
It's obvious that this is a pretty small camera; what's NOT so obvious is that it punches far above its weight. The multi-coated 25mm to 250mm (full frame equivalent) zoom is branded as a Sony G lens, which means that Sony is quite proud of its performance — something you can judge for yourself a bit later in this review. While it may not be all that sharp beyond 200mm or so, it otherwise produces killer results, in good light. Incidentally, the 2X digital zoom should be avoided like the plague. It murders quality.
I add the rider in good light because almost all small sensor (1/2.3″ size) compacts today are notorious for two things:
Unless one is careful, the highlights can clip, and
Chroma noise rears its ugly head in deeply shadowed areas.
The remedy for (1) is to set the exposure compensation at about -1/3 or more, and for (2) is to use flash.
You can't use an external flash since it doesn't have a hot shoe (well, you can, if you have an external flash slaved to the Sony's built-in one), but that built in flash, though a bit short in range, is perfect for those close-up shots (razor sharp, by the way, with stunning contrast thrown in for good measure) or portraits. If you want to use the red eye reduction setting, go ahead, though I've never seen red eye in any of my portraits.
It's got lots of other good things going for it. Apart from P for Program mode, where the camera will give you a (non-flexible) combination of aperture and shutter speed, you can also use M for Manual or i-mode. The former often poses to be a real life-saver in certain situations. While there are only two aperture settings (generated by a built-in neutral density filter) available — f /3.5 and f/ 8, you can use shutter speeds from 30 seconds all the way to 1,600th of a second. There's also an easy mode for rank beginners.
The best part of it is that the shutter is near-silent (only a very faint click is audible), adding to the Sony's non-intimidating nature and making it a great tool for candid shooting.
Besides, no one takes the little camera seriously; there are enough people going around clicking their cellphone cameras, which means that the public has become more or less desensitized to having things with lenses pointing their way.
As a result, a tiny point-and-shoot rarely merits even a passing glance, making for some good candid or street shots.
Since most cellphone cameras have a flash, the occasional weak blip of the flash often goes unremarked unless, of course, you've turned it off. Surprisingly, the Sony's flash has several settings, including slow sync, which is great for night shots. If you want to add some detail to the near foreground while allowing the camera to record the background on its own merits this mode is strongly recommended.
It has a full complement of scene modes, which I never use, unless I wish to get smart and interpret a scene mode to match a particular scene, e.g., 'Food' for a close-up shot (there's no separate macro mode; it goes automatically into macro in P and iAuto). Alternatively, you can always relinquish complete control to the camera by setting Auto and just squeeze the large, round, deliciously soft shutter release button with its distinct half-way point that signifies AE/AF lock, to record the shot.
Believe it or not, it even has tracking focus!
There's also exposure bracketing, which even the Nikon D3100 and the new D3200 don't have! You can go into the menu and dial in 3 shots at ±1/3, all the way up to 1 stop exposure variation each.
Note that you have to go into the menu for all the settings via the menu button, barring the settings on the Mode dial on the top deck (and the four way controller on the back). In fact, for a P&S camera, even a rudimentary Mode dial is a luxury.
I have an ulterior motive for repeatedly using the term 'P&S' with reference to this Sony; to set you up for it's Sunday punch. When you see the low ISO (80 and 100, no more) results, you'll hit the canvas. The pictures are often so sharp and contrasty, so colorful and vivid, that you won't believe they were taken with such a small, easily pocketable camera.
Even when I go out shooting with my Nikon DSLRs, the Sony stays on my belt as a back up, for two reasons:
Firstly, its negligible weight and compact dimensions enable it to hang easily on my belt, looking for all the world like a slightly bulky mobile phone; and
Secondly, in bright sunlight, at ISO 80, it's picture quality can give a DSLR a run for its money!
A bold statement indeed and one that I make reluctantly, but I am left with no alternative because, pound for pound and ounce for ounce, in good light, this tiny Sony is a match for even the highly regarded D5100 (which, by the way, is also a 16 MP camera, but its APS-C sized sensor has a lower pixel pitch / physically larger pixels, which makes it far, far superior when it comes to low light shooting, or for enlargements larger than 12″x16″).
Fascinating Features Of Sony H70
If you'll allow me, I can add one more distinctive feature of the Sony H70.
Image Stabilization: It has superb image stabilization. I have taken sharp night shots with it at ISO 80, handheld at one full second.
Panorama Feature: Then there's the 180° Panorama (a Sony innovation) mode, which works well in both horizontal and portrait orientations. It takes a little practice to get the hang of it, since one has to complete the 180° sweep in perfect sync with the time allocated by the camera, or it'll be rejected by the camera. Panos can be a very useful feature for vacationers who wish to capture, let's say, a range of snow-capped peaks.
Recording A Movie: It even takes movies, and they don't look too bad on the LCD either, even in the typical P&S specifications of 1,280 x 720 at 30fps in the popular MPEG-4 format. There are no stereo mikes or sound track, just a monoaural speaker on the top deck and a speaker on the bottom plate. Sony offers us the option of listening to one of four (very faint) music clips (user replaceable through the USB port / your PC's music store) during replay. Fun…but, hey, I'm a still shooter, so I didn't go into this feature much further. I may be tagged as conservative, but I firmly believe that movies should be shot with a movie camera.
Drawbacks Of Cybershot H70
Lest I give readers the impression that the H70 is perfect, I hasten to assert that it has its share of drawbacks but then, even the Sony Alpha A99 DSLR has a quite a few!! The perfect camera has yet to see the light of day. I list some of its drawbacks below:
It is a slow shooter. Shot to shot times are about a second apart.
It can take consecutive shots at 1.5 frames a second, but the screen blacks out during the sequence, so you have to be content with shooting blind.
The battery is good for only about 200 shots per charge, which may not suit everyone; a spare battery makes eminent sense.
But given its surprisingly large range of features, including a 2/10 second self timer, histogram, two levels of DRO (dynamic range optimizer) settings besides off, 3 metering modes, 3 focus modes (these are handy, and they work well), i-auto and a wide choice of WB (white balance) including a custom setting, face detection (can be programmed to give priority to either child or adult faces; can be turned off), near-infallible 9-point autofocus system, 'intelligent' scene modes, the H70 is definitely worth a close look, especially now that it's available at well below Rs 10,000, typical of the digital age where equipment depreciates prematurely.
The trick is to locate the item you want — one that you feel will last you a long time and wait till prices are driven down by the gravity of time. It might take 6 months to a year (hence, some patience is indicated), but it will be well worth the wait.
All said and done, I intend clinging to my Sony H70 as long as it continues to churn out one delectable image after another.
At around 3,000 shutter actuations, I think I've already got my money's worth; if it lasts 10,000 shutter actuations or more, you won't find me complaining. And when it finally develops some age-induced faults that may prove uneconomical to repair, I'll send it into honorable retirement on my display shelf — a memento of many a happy hours spent in its company.
The Sony H70 is that rare device — pathfinder, progenitor, pace setter, forerunner, call it what you will that sets a trend in motion. Gazing into my crystal ball, I can see a stream of forthcoming Sony cameras that will change the face of photography as we know it. And it is the H70 that undoubtedly helped inspire and herald the birth of the revolutionary Sony Cybershot DSC-RX100, which we hope to review in the near future.