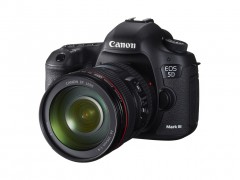 Canon 5D Mark II was remarkable for its high ISO performance and Canon 5D Mark III is designed to carry forward this legacy; but with some smart moves and additional features. Canon EOS 5D Mark III was announced on 2 March 2012 to mark the 25th anniversary of the first camera in the EOS line, the film-based EOS 650. However on 13 April 2012, Canon suspended shipping new units owing to the metering defect. According to Canon's product advisory:
In extremely dark environments, if the LCD panel illuminates, the displayed exposure value may change as a result of the AE sensor's detection of light from the LCD panel.
Canon fixed the defect and Canon EOS 5D Mark III, 22.3-megapixel full-frame CMOS HDSLR is now all set to benefit professional users with new autofocusing, metering and sensor technology.
Canon EOS 5D Mark III: Key Specifications
Sensor: Canon EOS 5D Mark III is a 22.3 MP full-frame CMOS sensor camera powered by DIGIC 5+ image processor.
Extended Range Of ISO: As compared to 5D Mark II range of ISO (ISO 100 – 6400 expandable to 25600), 5D Mark III offers a wide range of ISO setting (from ISO 100 – 25600 expandable to 102400). This will ultimately help in better low-light performance.
AF System: 61 point autofocus system with customizable AF presets.
Metering System: 5D Mark III borrows EOS 7D's metering system, i.e., iFCL metering with 63 zone dual-layer metering sensor.
Other Features: 5D Mark III can shoot 6 fps in continuous shooting mode, features 100% viewfinder coverage, offers a slightly larger LCD and provides dual card slots for CF and SD cards.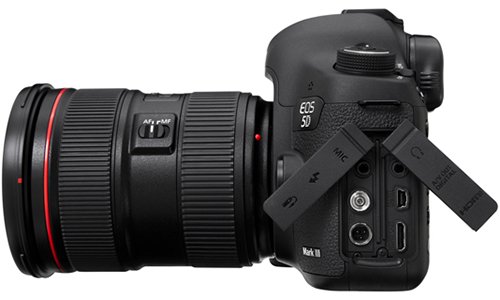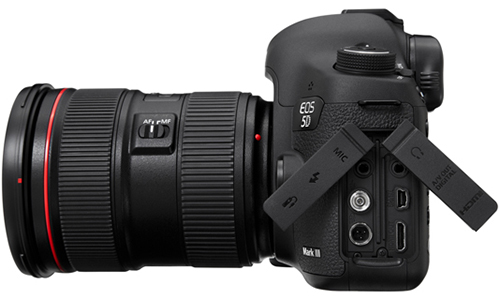 New Features: Significant Improvements Over Canon EOS 5D Mark II
Picking up 61 point auto-focus system from EOS – 1DX coupling it with EOS 7D's metering system and inheritance of "silent" shutter mode from 1D series indicate that Canon is finally heading towards professional solutions. And in the league, here are some of the features that debut for the first time in the EOS 5D series.
Chromatic Aberrations Correction: One of the best features of 5D Mark III is that it compensates for chromatic aberrations, generally caused by older, less expensive lenses. With automatic correction of lateral color fringes in place, you don't need to worry about investing in luxurious L lenses for getting sharp results. You can get good results with older, lightweight lenses which otherwise seemed faulty with 5D Mark II. To benefit from this feature you will however need to manually load lens-specific profiles as Canon 5D Mark III has a fewer lens profiles loaded in it.
Ergonomics: For the first time Canon has tried to simplify the ergonomics of EOS system. The DOF preview button is placed at the right hand side, which makes it easier to tap the control while one is shooting. Canon has also fixed its power switch bringing it back to top and it's Play button acts like the one it should.
HDR & Multiple Exposures Shooting Capability: 5D Mark III is Canon's first SLR to offer HDR and Multiple Exposure modes. You can use its auto-bracketing options to shoot upto 7 frames over +/- 8 EV range.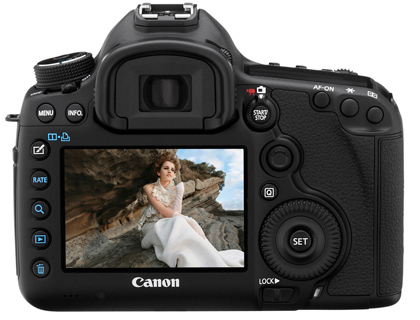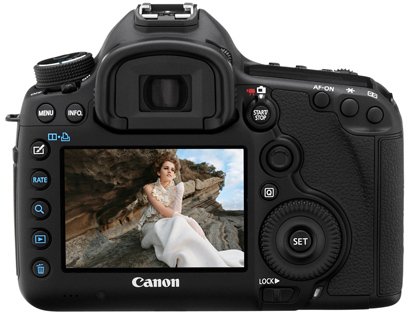 While it lags behind Nikon's innovations with Nikon D4 and Nikon D800, Canon EOS 5D Mark III is one of its kinds to charm the customers with exceptional color quality, clarity and sharpness. And if you shoot Canon, it is a good option to pick from the bunch of Canon's offerings. So, go grab it here.