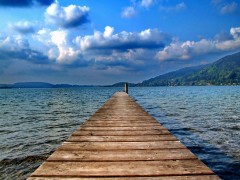 Perspective portrays your unique viewpoint in the photograph. It enables you to convey your creative outlook; by portraying things around you with a difference. In addition perspective helps depict depth which is usually missing from the 2-dimensional photo-plane. Perspective makes a difference to the composition by adding the missing third-dimension and creating extra interest. It makes the photograph interesting and draws viewer's attention towards the dynamics of the subject. Adding your perspective to the composition weaves a story around the captured scene; elaborating your unique style of observing and photographing. Employing creative perspectives helps you groom your creative art of photography. Some of the elements which help you convey your perspective are:
Including Foreground elements

Foreground elements help in gaining the sense of perspective. Including the elements in the foreground offer an insight into the subjects surroundings. For instance, the sunset portrayed against the rocks or a house shot with the fencing in the foreground heightens the sense of perspective and draws the viewer's attention into the depth of the plain and flat surface.

Converging Lines

Lines help determine direction and heighten the sense of movement. Carefully examine two lines running parallel to each other, they tend to converge at a certain distance. The railway tracks, street / natural path ways, roads or the horizon — all depict this characteristics. And when you portray the lines as the subject (or use them for complimenting the subject), they clearly depict your view of the scene. These converging lines tell the story of your excursions and draw the viewer's attention to your center of interest.

Natural Framing

Natural framing is an effective way of putting forth your unique viewpoint of the subject. It narrates your creative outlook of the subject. It adds an element of interest and emphasizes the subject. It adds new dimension to otherwise dull and flat composition.

Angle Of Shooting

Experiment with varying viewpoints and angles of shooting to convey your perspective. The angle of shooting convey a certain qualities in the photograph — strength, intimacy, authority,etc.

Shooting at low viewpoint represents the dominance of the subject. It helps in exaggerating the strength and power of the subject.
Shooting at the same level as the subject induces the sense of intimacy and a feeling of involvement in the activities, events and subjects being framed.
Shooting from a high view point skews up the perspective. It exaggerates the view and induces extra interest by portraying an unusual viewpoint.
Perspective of a photograph is your unique viewpoint and thus your unique style of photographing the subject. Thus improving your compositions while employing some creative perspectives will make your photographs stand out.