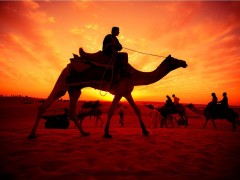 You might have spent great time hunting for the natural scenery. Or would have waited long hours for the sunset and the right light. As a result, you were able to capture the impressive colors. But why does that photo still somehow feel lifeless? In spite of all your efforts, it still looks incomplete or blank & boring. Here's what you can do about it.
Give The Human Effect

I remember being at an exhibition some time back. The photograph that was appreciated the most was of a person collecting his valuables during a flood. That one picture was enough to portray the severity of the flood. Any other photo of the flood with lots of water or broken houses might not have generated that feeling of sympathy for the people stuck in the flood. I think the point is clear.

Capture People Natural

People captured natural generate good outputs. These pictures tell you about the moment or a story behind their actions/ reactions. Every photo becomes unique in its own sense. Moreover, when asked to pose, people tend to get artificial hiding all the natural expressions, emotions and reactions. That is why candid shots simply rock! Check out ideas and tips for taking awesome unposed shots here.

Add life

You don't have to do with people only. A sheep on the hill against the sunset or a line of camels on the horizon is just the right combination to make the picture lively.
Different professionals have different opinions on this. But definitely adding people or animals or birds in any frame adds life to it. What matters is how effectively you do it. After all the art of photography is depends on the photographer and his composition capabilities. What is your experience with such compositions?