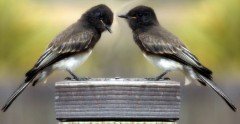 There's a lot that happens between eying the subject and getting the results. This is extremely complex to describe and understand. Luckily, the technological advancements have taken this burden off the photographer's shoulder. However there's quite a lot which still only the photographer can do, after all there's a difference between the man and the machine.
Composition is one such thing. While today's digital cameras can focus and expose effectively and some even do the face-recognition, it is only the human eye which can visualize the results and perceive the effect or the final result perhaps. Composition is the effective placement of the visual elements in the photographic frame such that the results draw emotional reaction.
There are various elements that contribute to a good composition like the color, texture, lines, shapes, the light and more. Also there are various rules which works more as guidelines to help you use these elements for maximum effect. Here are commonly used rules and elements contributing in making eye-catching photographs.
As I noted earlier, composition is out of reach of the camera and is dependent on the perception and the visualization of the photographer. Good composition is the difference between a perfectly sharp and well exposed yet uninteresting photograph and an underexposed photo with effective highlight on specific area(s) of the frame that make it interesting even to the layman.
Still not sure how to make impressive images. Check out the killer composition tips to make a mark with your photographs.