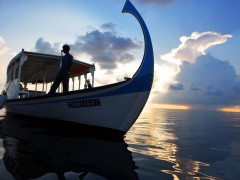 Taking pictures while you travel can be a memorable experience. As time goes by, the memories of the trip fade but the pictures keep few memories alive forever. You can make these memorable moments better if you prepare well in advance for one important part of your trip: that is photography. So, what do you need to keep in mind?
Getting The Right Photography Gear
Multiple Cameras: A photographer on the go needs to be very careful about his/ her gear. Make sure you carry digital SLRs and a complimentary compact camera. Even your camera phone will do. The compact cameras come in handy as you can't take your bulky DLSR everywhere. At times even the compact cameras & phone cameras can put bulky DSLRs to shame. Check out the killer tips to make the most of your compact camera here. Avoid film cameras though as many of my friends got their films spoiled during screening at the airport.
Choice Of Lens: Make sure you carry a less bulky, normal kit lens (like 18-55mm) for the normal trip. You may also like to carry one zoom lens (like 100-400mm) if in case you need it. I would recommend you carry something like a Sigma 18-200mm lens or a 24-105L lens which will give you a good range in a single lens and will reduce the need of carrying two lenses which increases your baggage.
Don't Forget The Backup Batteries: This is one key element which can ruin your travel photography. Make sure you have fully charged batteries. Also, keep backup batteries for all the equipment you are carrying. You may also want to carry proper charging equipments to charge the batteries whenever you need.
Travel With A Tripod: You may want to carry a good quality tripod, not very bulky but sturdy enough to hold your camera against wind. Tripod also comes in handy if you want to use the self-timer for a memorable group picture. Are you planning to buy one for your next trip? Check out handy buying guide for picking the one that best suits your need.
Weather Proof Kit: You must have checked the weather reports of the place you are going to. Did you actually think how weather can actually pose a problem in your photography? Make sure you carry water proof casing, weather sealed camera (if possible) and the right bags for the equipments to keep them safe from any such climatic surprises.
Photographing People & Places
When you travel you often meet people from different cultures and backgrounds. It's always a good experience to capture the moments you spend with them. However, you have to follow some ethics and take permission prior to photographing people in unknown land. There are few other things you need to remember while capturing people and places. Let's have a look:
Security: With the news reports of tourists being attacked and other such stuff, make sure you do not carry expensive equipments in isolated places. You may not want someone to take your priced camera and lens from you. Also, take care of the local security norms. Do not carry or use equipments where photography is prohibited.
Cultural Issues: Check out the local customs. There are places where photographing people, especially women can get you into trouble.
Photograph The Landmarks & Landscapes: This is the interesting and the positive part. When traveling make sure you take landscape picture, long shots, aerial shots and with high DOF. Why? Well, capturing one person or small area will not give you the right feel of the environment you are experiencing. You can always debate on this. But such pictures will always remind you of the good time you had in such places.
Capturing People: Capture people on streets, in action (busy in their routine activities). Is it contradicting with my previous advice? Well, if you have checked the local customs you will know how much risk you can take. But make sure you walk up to the person and courteously ask for the permission if need be.
Document Your Trip
Make sure you keep a note of the all the places you visited and what picture was taken in what circumstances. You'll want to thank me later.
So, pack your bags and get going… Do put down your experiences to share when you come back…