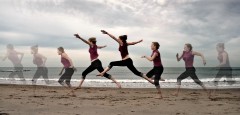 You may have watched the videos of a blooming flower, melting ice, sunset or sunrise or the life cycle of a tree? Even you can give a try to something like making a video of growing grass or capture the busy market place with your camera. This technique is called Time-Lapse Photography. Time lapse photography is a sequence of shots over a period of time covering a particular event.  These images can be arranged into a video or can be creatively super-imposed.
Here are 6 tips on how to get going with time-lapse photography.
Choose And Visualize The Event: The first and the foremost step is to decide on what event you want to cover. Is it a fast moving action or a gradual change? The entire photo shoot rests on this decision. If you want to cover some spontaneous act, you need to set your camera on tripod in continuous mode by setting the specific time interval. Some of the newer cameras have this feature built-in. Just in case your camera doesn't offer this feature, you can use an intervalometer. And if you want to visualize a slow gradual change like growing of a seed into a plant, then you can periodically capture the process.
Tweak Your Camera Settings : The next important thing you need to do is to set your camera right. Just 3 settings and you are ready — ready to capture your event in pieces of information that will finally shape up your video.

Depending on the size of the memory card in your camera set your camera to record JPG. RAW can eat up lots of memory space. Sometimes it is advisable to shoot RAW, for a better post-processing. Also cameras perform faster when shooting JPGs but this shouldn't be a problem in newer DSLRs.
Set your camera's mode to manual to be able to control all the nuances. This helps you choose and fix your settings across the entire sequence avoiding any changes during camera's auto modes. Thus, the DOF, shutter speed, white balance remain constant.
Set ISO to auto so that the camera can compensate for the fixed shutter speed and aperture to ensure proper exposure. In case of high ISO, grainy and noisy images you can correct them during post-processing.

Spend Time On Post-Production: Once you have the photographs on your PC,  you can start giving the final touches by cropping them or making the desired corrections. Sometimes these changes need to be applied to the entire sequence (cropping, etc); at other times you may want to make changes to only particular shots in the sequence. You can use Adobe Photoshop, Adobe Lightroom, GIMP, Aperture (Mac) or any image editor of your choice. You can even batch process the pictures. Format them to your requirement.
Compile A Video: Fire up Photoshop and turn your hard work into a well covered event crunched into a short span of time. You can use Adobe Photoshop, iMovie or Apple's QuickTime Pro whichever you find easy.
OR Superimpose: Sometimes you can take your creativity to the next level and super-impose the images narrating the entire story in a single shot. Usually this can be done when the subject moves across various parts of the frame.
Review: Once you are ready with your video, its time for a review of your task. Review the entire sequence or video and make any final changes.
Showcase The Final Result: Take pride in your final masterpiece. There are poor chances of admiration of an art-work which is not admired by its master. Time-lapse photography is an advanced technique and a creative form of photography, narrating a story of the event.
Time for you to plan for your time lapse photography session.