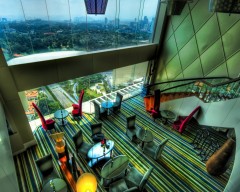 Author's Intro: This is a guest post by Jiji Thomas. Jiji Thomas works with SmartPHOTOeditors as a content writer. His interests include blogging, creative writing and photography.
You wouldn't come across a real estate listing without an accompanying picture these days. A picture of a property or a house gives visitors or prospective buyers an opportunity to form an assessment about the house without having to visit the place in person. The more eye-catching the picture, the more likely that the property will get the attention it deserves. Home owners and property developers have known this for years and therefore go to any lengths to ensure that the pictures they put up with their listings are of the top quality. A picture that lacks quality or projects an unprofessional approach is more likely to drive away potential buyers, negating the main reason of having the picture in the first place. If you, as a home owner or a property developer, need to make your photos stand out and beg a second look, any quality issue that may hamper the effectiveness of the photo has to be addressed upfront before the listing is put in the public domain.
You may be a professional photographer or just an enthusiast in possession of good photography skills eager to put your first full-featured camera to good use. These tips can come in handy as you go about capturing the photos for real estate property listing.
Go For Wide Angle Shots

Provide a dynamic edge to your shoot by using a wide angle – an angle of 12-24mm works best in most cases. Highlight the best features of your house by getting a different viewpoint with each shot, using as many angles as you think is necessary to make your images present the complete picture.


Use Tripod For Interior Shots

The importance of a tripod cannot be overemphasized, especially in the case of real estate photography. A tripod will keep your photos from losing focus due to shaking, or end up with blurred up images; more so when you are shooting the interiors.

Control Lens Distortions

While using wide angle lenses you are at a high risk of introducing distortions; especially when the objects you focus on are too close. Try to place the furniture far enough so as to accommodate for lens distortions.

Give A Professional Look To Real Estate Interiors

Get rid of photo spoilers that can make the image lose its professional touch. These could be a soiled pillow or an unsightly bed skirt, leaving the end-result rather be diminishing and in urgent need for post processing editing.


Get Rid Of Clutter

Ensure that your photography area is free of clutter. Keep power chords out of camera's focus. As for the exteriors, it is advisable to take the car out of the driveway and remove the trash cans and telephone wires. Try not to include neighborhood houses in the background. If you end up with an image full of distractions in the background, get some help from a professional photo editing expert and have them fixed.

Put Filters To Use

Diffuse harsh light or loss of contrast due to hazy conditions by putting the lens filter to use. The lens filter can also help reduce glare and reflections.

Shoot During Golden Magic Hours

Avoid shooting for the exteriors in midday sun. Prefer the mornings and early evenings as they provide a more favorable natural lighting at low angle. It is prudent to shoot during these times. Additionally, make sure you have a clean blue sky with only few clouds and the sun is up. If you need to remove excess clouds from the background, photo editing experts can get rid of them at a later stage.

Cover The Details

Ensure that you shoot all your rooms, whether it your living room, the dining area or the kitchen. Emphasize your residence's stand-out features in your photos by showcasing a home theater or a multi-functional gym.


Fill Flash

Use camera flash while shooting interiors, so that you have a better chance of deriving maximum colors with fewer shadows.

Image Resolution

Keep your camera to the maximum image resolution. A resolution of 72 dots per inch works like a charm.
While these tips can add to the quality of your house or property pictures, your photographs can get more finesse with some trusted techniques that professionals in image editing field use to enhance the quality of the image. The post processing editing is increasingly becoming an integral part of photography as more and more pictures find their true potential with the help of impeccable image editing. There are other benefits of editing, such as perspective corrections and 360 degree virtual tours that come bundled with the service that the professional designers offer. Getting professional photo editors to work on your real estate pictures will not only enhance the quality but also give the pictures an extra fillip, making them more appealing, while contributing to the effectiveness of your real estate listing.
About the author: This is a guest post by Jiji Thomas. Jiji Thomas works with SmartPHOTOeditors as a content writer. His interests include blogging, creative writing and photography.