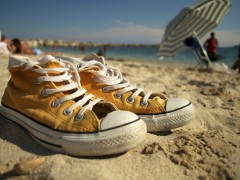 Editors Note: Today we have a guest post from Vikash Gupta. Vikash is an amateur photographer and he likes to photograph landscapes and night life in the city and enjoys experimental photography. He has a blog — The Ups, The Downs and The Curves. Also find Vikash's Photostream on Flickr. He has visited several cities in past years few years like Calcutta, Washington DC, Paris, Cannes. Here is a first hand account of his visits to Paris and Cannes. And in this article, note that instead of the regular tips and tricks, it's more about how the creative thought process progresses inside the mind of an artist.

Photographic documentation of a city is any photographer's dream. I have been reading much about some professionals, trying to understand what to look for while documenting a city. Some of the people who helped me understand this are Bryan Peterson, Steve McCurry. There are more but I cannot recall their names right now. Documenting a city is not an easy task, and no documentation can be thoroughly complete. So, what is the most important part of a city — yes, the people, their habits, the culture, the small stigmas of a city life. So, what should we do, because cities like Paris, London, Stockholm, Calcutta, Delhi, NY has been shot to death by so many photographers at so many times, since they were built. How can I shoot a picture of Taj Mahal, or Eiffel tower and make it different than rest of the images… This is a question that keeps haunting me all the time. What will make it different?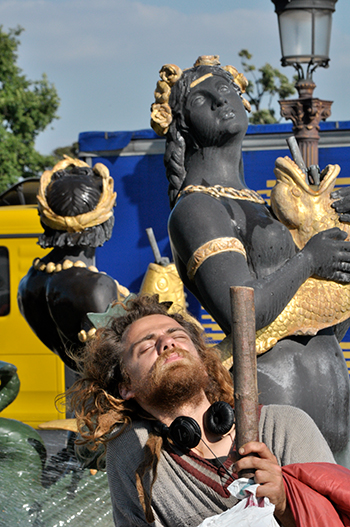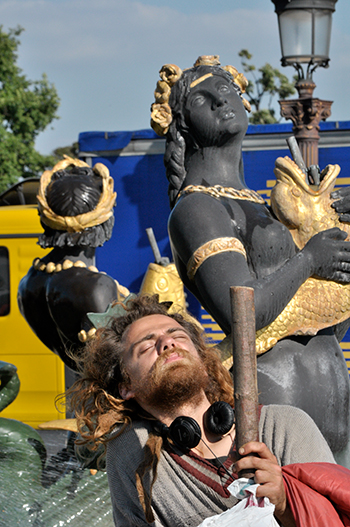 So, first things first… as Scott Kelby says "You have to go to those places where no one goes, in weird climatic conditions, try to look at it from a different perspective." Another photographer Ken Rockwell says, photography is like SEX , well not literally he meant, its all about selection and exclusion, trying a different composition, which should work.
But documenting is not an easy task in itself. One needs to understand what people think, where to go at what time. Being at the right place at the right time with a compact camera might give a photo that is worth a million dollars. I personally read a lot about the places where I am going to shoot, before going there. This research is important. So, one needs to stay in the city for a considerable period of time say a week or two just trying to understand the demeanor of people. If anyone has seen the documentary called "The Photographers", they will know what I mean. Most of the cover shots of National Geographic are a split second opportunity. These people spend months trying to find one face that can well reflect the culture of that region. It is thus, a lot of work, and some fortune. But, as they say, opportunity favors the well-prepared… The most famous example so far I know is of course the picture of The Afgan Girl (Sharbat Gula). McCurry was just an intern and had no idea that, this picture will become the icon of NatGeo portraits and will bring him fame, which he had never expected.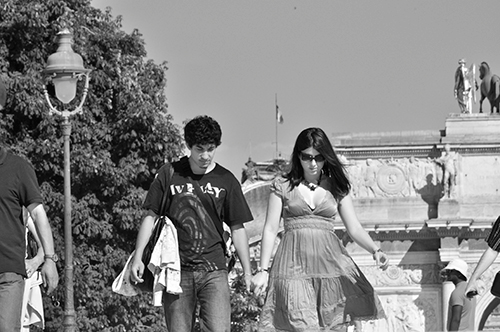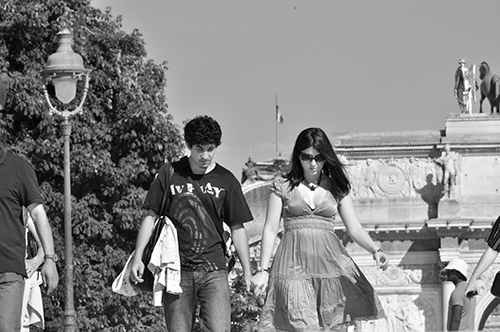 So, what should we do, what we need? Personally, if I go for a city walk or whenever I go, I prefer walking, as it is said going to downtown in a car to take pictures kind of dilutes the fun and adventure. The next important thing is to observe and observe. Think that I (or you) are not a part of this rushing city life. Keep oneself on top of everyone and observe the intricate details what people are doing. (You will also find, half of the things people do are stupid. :) But that is the fun part, one feels at a very high spiritual level while just observing. The best idea is to pick some one and just follow what is he/she doing. Its kind of sneaky but there is hardly any other way to observe. I will roam around in lonely streets where the common people stay and there are small shacks, where the common people are hanging out, talk to them and try to understand what they talk about, what makes them angry, what makes them sad, what makes them smile. This is what I need to do, to develop some sense of respect for the people I am photographing. Because, personally if I don't have respect for my subjects I cannot photograph them. I need to think, what they think. How happy or how miserable their life is? Try to be one of them, develop a sense of trust, only then one can make pictures. Having a 300 mm lens and sneaking on people is creepy. And one is always afraid that the freedom of thought and expression may be compromised, which defies the whole purpose of photography.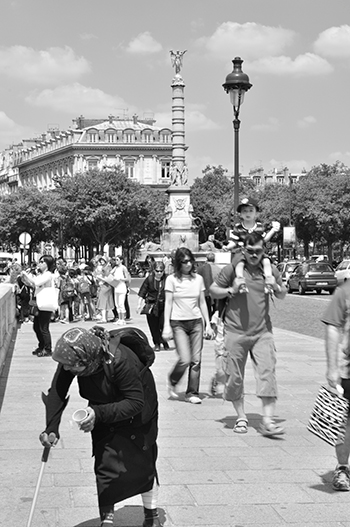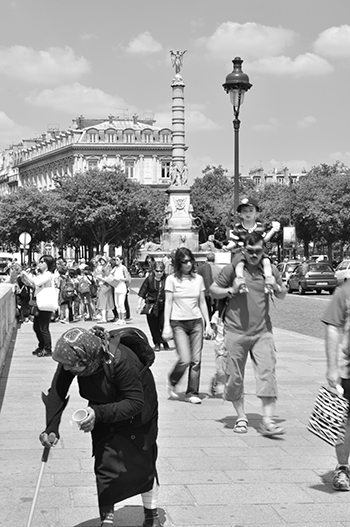 My common subjects are, the homeless guy selling newspapers, the guy on newspaper stand, the old man enjoying his coffee and smoking at starbucks, the old book store, the guys staring down deep in the Antique store showcase, wishing that, that piece of jewelery should belong to him and day dreaming, the couple bidding good-bye and sharing a kiss while parting for their offices. The small things are the one which matter the most.
Ok, so they are the people? What about the iconic buildings of a place? They are important too, but here is where the creativity comes into a picture. What to include and what to exclude? Should I show people with this building or should I not, Should I use a wide-angle to capture the whole Eiffel tower or should I get a real tight shot of the architectural details. It is ones personal call. On a second thought, if one can combine the people of a place with the iconic buildings properly, most of the times it does the trick.
After the buildings, I think its time to concentrate on street signs, may be filling up the frame with just one letter, concentrate on the tiny details, rusted and scratched signs on the streets or the old shops. They create fabulous images.
So, what next? I guess one should get the right gear. Personally, I carry a wide angle, a 200 mm and a 50 mm f/1.8 lens (perfect for portraits). I also prefer taking an external flash (SB 600), UV filters to protect the lens from dust and a polarizer. It would be nice to keep a gorilla pod, or a small tripod handy in order to capture night life. I will never leave my compact camera at home. If there is not enough time to pick up the DSLR, a point and shoot might be good enough.
Well that is how far I can go, I think breaking the rules of composition and hard work are the keys for a better documentation. Last but not the least, a keen sense of observation, the willingness to learn and the desire to be one of the people is very important.
Editor's Note: Experiences are opportunities to learn and often inspire you to pick up your camera, explore and experiment. If you have a story to share feel free to contact us and we'll be happy to share it here on APN. The following are some of the other photographs by Vikash on his trip: