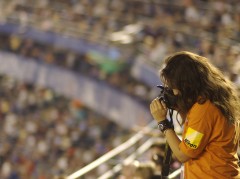 Social networking has emerged as a blessing for flourishing and promoting the ideas. Well, its not just ideas, social networking sites are opening up new ways of promotions, interactions and also acquiring new clients. Just like the popularity of Facebook and Twitter had opened up space for encouraging the photographers to reach multiplicity of potential clients, Pinterest is also offering the same flexibility behind the scenes. Want to know how is it serving the photographers? Here are some of the things best of Pinterest photographers are using Pinterest for.
Pinterest Serves As A Source Of Inspiration

Pinterest is a good start for visual inspiration. If you're striving hard for new ideas and your creativity needs a jump-start at making unusual photographs, Pinterest boards and pins serve the purpose well for you. The "visual treat" offered by Pinterest comes in handy for efficiently collecting ideas for your next photo-shoot; perhaps by looking at the photographs of the other photographers or by checking out some cool tips and techniques for accomplishing the task. And as Christina N Dickson says, Pinterest is sure to explode creative ideas and become your next inspiration obsession. Check out the infographics which explains why Pinterest is so addictive.


Learning New Tips & Techniques

Pinterest is an amazing resource for beginners and photography enthusiasts. Want to try something new, but don't know how to do it — don't worry photographers over at Pinterest definitely have something in store for you. Spare some time and browse through the pins shared by the photographers. Be ready to explore the world of photography with this virtual pinboard.

Pinterest Encourages Social Sharing

Social sharing is at the heart of Pinterest. Just like Facebook and Twitter, Pinterest also helps in building community and spreading the word. So, upload your photographs on Pinterest or pin your Flickr photographs to gain instant appreciation from people with similar interests. Pinning and re-pinning, liking and adding comments with Pinterest is so smooth that it instantly becomes viral; with the added benefit of posting those pins on Facebook and Twitter from Pinterest itself. Of late, we've realized that Pinterest is really doing well for our posts especially the gallery posts. So, go ahead and hit the nail for sharing your creative ideas and artistic instincts with others.

Pinterest Provides A Platform For Promoting Your Work

Talking of the commercial aspect, Pinterest's virality can serve as a positive influence on your business as a photographer — possibility of adding new clients. It provides the platform for showcasing your work and accordingly helps you in pitching your services. Looking at age bar of the people using Pinterest, you can easily promote portrait and wedding photography services.


Pinterest Serves As A Medium For Effective Communication

It's relatively easy to work with clients through Pinterest. You can easily discuss the ideas with your client by creating pin boards with interesting photographs and useful tips for preparing for the photo-shoot.  For instance, you can create a board with pins relating to upcoming photo-shoot to help the client pick and choose the appropriate clothing or pin a few pics to let the client decide upon the poses (you know girls, especially brides are quite choosy :) ).  Also, encourage your client to gather the photographs as they come across. The visual ideas will help in effectively communicating the needs and requirement of your clients.
Already a Pinterest member? How are you using it?