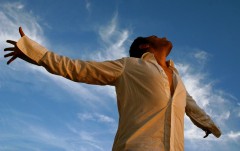 Photography is not only about taking the photographs. It is about making the photographs. While the purists believe in making good photographs with their cameras, the professional photographers are experts at photo editors, manipulating & retouching tools and follow marketing strategies to make the most from photography. Here's a collection of free and useful tools for photographers, ranging from simple photo editors, organizers and showcase galleries to advanced marketing tools.
Photo Editing Tools
Photo Sharing Tools
Flickr: Flickr is the best solution for uploading, organizing, sharing and editing the images online. Flickr provides the platform for showcasing the works of amateur and professional photographers. Flickr organizes the images into various photostreams and group pools. Flickr also provides the copyright solution to the photographers by providing them the feature of licensing their photographs either under Creative Commons License (with various clause and specifications) or as copyright material.

Picasa: Picasa is Google's initiative to provide a basic photo sharing tool with ease of creating web albums and sharing them over the internet. Picasa also features a very basic and hassles free photo-editor but instantly make subtle changes to the photographs. It also provides the facility of creating photo collage and photo movie. Picasa can be effectively used by the photographers to organize the photos and share the required albums with their clients.
Photoshop.com: Photoshop.com is an online product from Adobe. Photoshop.com is a multi-purpose tool; it enables you to easily edit the images with the help of highly efficient online tools (Photoshop Express Editor & Photoshop Express Style Match) and provides an organizer for keeping all your photos at a safe place for online sharing.
SmugMug: SmugMug is a multi-purpose photo sharing tool. It allows you to take benefit of online storage, social sharing and ordering the prints. Apart from these services, SmugMug provides you the platform for selling the images.
Shutterfly: Shutterfly is one of the renowned name for online photo storage. While it provides other services which are offered as premium services, its online storage and sharing services are free of cost.
Free Image Hosting
Photobucket: Photobucket is an image hosting and sharing site designed for photographers to simplify the process of organizing and keeping the images safe & readily available online. It is multi-feature site. Apart from the basic feature of hosting the photos, it also makes sharing easier. It enables you to share the photographs over social networking sites and enables the photographers to benefit from social media marketing. It also provides a feature-rich editor, slideshow application and flexibility of access through mobile apps.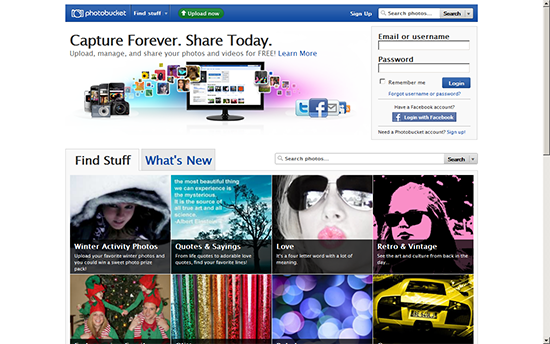 ImageShack: ImageShack is a media hosting site which offers multiple tools for hosting the images. Sign up for free and start uploading the images from anywhere; from the browser (through Image Shack toolbar and sidebar) and from mobile phone (through various apps for iPhone, Android and Blackberry). It supports all the platforms (Windows, Mac, Linux) and also provides a Bulk Uploader for uploading multiple images.
TinyPic: TinyPic is yet another option for image hosting websites. It is Photobucket's initiative to provide a registration-free uploading service. TinyPic enables you to easily upload, link, and share your images and videos on MySpace, eBay, Orkut Scrapbooks, blogs, and message boards.
Free Photo Marketing Tools
PicsEngine: An artist gets recognition by showcasing his piece of arts. Online marketing is one such tool which enables the professional photographers to showcase their work to the clients and general audience. PicsEngine is one of the best ways of doing this. It enables you to showcase the photo galleries; which acts as the photographer's portfolio. You can either create an account with Picsengine to create fully-host galleries without installing anything or you can download its flash version to create self-hosted photo galleries.

iStockPhoto: iStockPhoto makes it easy for photographers to sell their photographs to advertisers, web designers, entrepreneurs and bloggers. It is an online exhibition plus sale platform; where the photographers offer their best works (the photographs) for sale at proces which anyone can afford. Getting started with iStockPhoto is fairly simple and three steps away; register for free, become a contributor and provide 3 sample photographs. If your photographs are approved by the moderators, you can upload multiple photographs and offer them for sale.
Wix.com: Wix gets you involved in becoming a website creator along with the photographer. Wix is a free website editor which allows you to create your own photography portfolio website free of cost. You need to simply choose a template for creating a website, click edit to drag & drop the items and get started by uploading your photographs for managing online portfolio for yourself.
Miscellaneous Free And Online Tools
Which tools are you using?