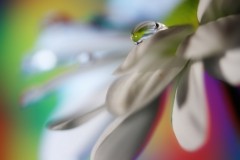 Photographing water droplets can really be addictive. Especially when capturing beautiful serenity of background or foregorund elements in tiny water droplets. Try it out! You will ultimately fall in love with the simple physics of the water droplets — REFRACTIONS!!!
Harold Davis, Steve Wall, Lord V, Evan Leeson, Macorlin have captured some of the finest examples of water droplets refractions. Speechless, is what these wonderful pics make you feel. Check out for yourself! Here are 51 handpicked water droplet refraction photographs. Each photograph is a perfect instance of unique colors, reflections, refractions and creates magical sensation in its own right.
Which one is your favorite?