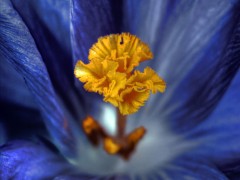 Here are 55 stunningly beautiful flower photographs illustrating the aesthetics of natural beauty. The following collection of awesome flowers comprehensively describe delicacy, beauty, elegance and fine details of the wonderful creation of nature — the flower. Abundant in nature, these awesome and delicate flowers offer a lot of photographic opportunities. Macro shots, backlight magic, shallow depth of field, enticing colors, fine details, classic black and whites; really a lot of things to try. Flower fields, beautiful bouquets, closeup shots that fill the frame, what else — you can also photograph them in the studio set-up as well.
It is quite refreshing and inspiring activity to take pictures of the flowers. Start with capturing the essence of the flower and advance further to make the spellbinding images by implementing various artistic techniques like flower refractions in water droplet, stupendous abstractions and more. But first let's get started with some inspiring photographs.
Want to give flower photography a try! Check out the article on how to photograph flowers for handy and useful tips for photographing flowers. And don't forget to share your results with us.