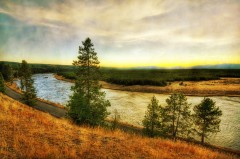 Visual arts is highly influenced by the creativity of an artist. And that is why most of the times it is debated that the camera doesn't matter, it is the skill, talent and art of an artist that comes to foreplay. While composition and lighting form the founding pillars of photography, photographer's vision and imagination lets the magic happen. This magic can take you to the real life fine details and the same magic can take you to the surreal world — the dreamy world of imaginations.
Surrealism by its very nature is mostly contradicted with photo-manipulations. But here I'm talking of natural photographs that heighten unnatural theme — the dreamy world of beauty not visited by anyone. Sometimes employing HDR, other times simply utilizing the natural light effects during haze, fog, etc or sometimes times just retouching the images for subtle effects like split toning can greatly help in heightening the sense of surrealism.
Surreal images have a unique power of attraction that invite you to explore the world of dreams and imagination. Also, it is a unique idea to get creative and artsy. So, how about getting started with some inspiration for surreal photography.