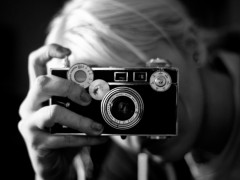 Have you tried shooting the portraits against the sun? Most of us simply drop this idea because shooting against the sun is quite tricky. However professionals embrace the beauty of this natural source of light in multiple ways; artistic lens flare being one of them.
This creative lighting technique does a wonderful job in photographing the portraits with a difference. Instead of just employing selective focus or using soft focus filter for photographing people, you can create some quite interesting and impressive portrait shots by mastering the lens flare.
Here are 20 beautiful examples of how professional portrait photographers and photography enthusiasts achieve hazy, surreal vintage effect through otherwise unwanted lens flare.
This soft, faded effect is simply mind-blowing either working with portraits or simply any other subject. We have just scratched the surface in this post. Watch out this space for an upcoming post on photographing the portraits into the sun to get awesome lens flares.