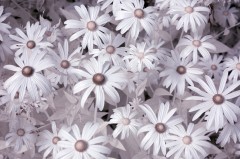 Infrared photography is all about capturing the invisible range of light (the far red light which is not visible to the human eye) known as the IR (infrared) light. The wavelengths used for infrared photography range from 700nm to about 900nm. In the days of film, infrared-sensitive film coupled with infrared filter was used for creating interesting in-camera effects like black and white photographs with dreamy look or slightly surreal glowing appearance of foliage known as the Wood Effect. (Check out more on Infrared Photography here)
These effects can also be achieved in digital camera as well — simply by using a infrared filter or going in for IR converted camera. You can easily find various infrared filters to get started with infrared photography (Hoya filters R72 and RM90 being the popular ones) and if you have a spare camera and are interested in capturing infrared full-time, you have the second option open as well. Learn more about it here.
This makes space for the third option. You can mimic the infra-red effect in Photoshop as well. Check out this tutorial by Peter Sawyer for step by step guide on how to create infrared effect using Photoshop.
Whatever the technique be, the outcome of infrared photography almost always turns out to be interesting. Infrared photographs convey a lot of what you can't see normally with your eyes. Here are 15 infrared photographs which explicitly exemplify the uniqueness of infrared imagery.
Infrared images are quite impressive, interesting and unique. Get ready to shoot some amazing infrared images and don't forget to share them here.