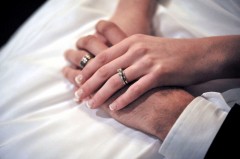 Wedding is a grand event for the couple — the once-in-lifetime occasion. Pre-planning, artistic expression, a great sense of fashion and style, contemporary look and no scope for trial & error; all these things set wedding photography apart as full-time professional photography. And reading through the real-life experiences of the professional wedding photographers reveal a lot of secrets! The secrets of getting the ravishing photographs of such a grand event. Here are 9 awesome tips by the masters of wedding photography. Check them out and include them in your workflow to be more comfortable and confident for your first (or next) wedding shoot.
View It As A Business, Not A Hobby

The professional photographers look upon wedding photography as a perfect plan executed flawlessly. Right from booking the photo-shoot to delivering the wedding album, you don't have a chance to go wrong. Dina Douglass thus advises to view wedding photography as a business, not a hobby.

Please Yourself

This is quite much a perfectionist approach, i.e, please yourself with your art and you are sure to hit the jackpot — impress your clients. In other words pleasing yourself is the key to impressing your client. George Weir thus makes a key statement that, "My images have to please me first. If they do that, then they usually please my clients."

Cover The Event With A Difference

Weddings are all the same. The essence of the wedding photography lies in covering the event in a unique and unusual way. The challenge with wedding photography is that while the theme remains constant throughout the series of wedding events, you have to capture the occasion with fresh perspective everytime. This is what makes wedding photography a desirable profession for Jeniffer Dery. She admits that, "My enthusiasm for weddings is sustained by the challenge of making the familiar seem different. Weddings, as we know, are generally very similar. It is what I am able to do with each event that keeps it interesting. I make sure to always go in new directions to keep myself interested. "

Play With Light

Understanding the characteristics of light and knowledge about various lighting set-ups come in handy for creating long-lasting impression with your art. Playing with light is perhaps the secret of getting the photographs you want. Just be crazy enough to frame your creative vision. Here is Cliff Mautner's secret of capturing the best shots. "I love to use harsh, direct light and create texture with backlight and rim-light. I have no problem overexposing highlights or losing shadow detail if the image is striking. I love graphic images, and I achieve them using light in various unorthodox ways."

Get Photography Ideas From Your Client

At times your clients can well be good directors and composers. For instance, Liana Lehman tells that my clients often tell us about great photographic spots unique to their location where they would like us to shoot. These locations perhaps make them feel more comfortable and gives us (the photographers) a chance to capture the candid moments and photograph the intimacy.

Click, Click, Click

This tip comes from Natalie Norton's blog post on Photographing Your Best Friend's Wedding. Turn on the continuous shooting mode and shoot, shoot and then shoot some more. Remember that you cannot afford to miss the shot. So don't forget to turn on the continuous shooting mode while covering spontaneous action and don't forget to instantaneously release the shutter when not in continuous shooting mode.

Shoot As A Photo-journalist

This little yet important piece of advice comes from Stacey Kane's personal style of photographing the weddings: "I never really began wedding coverage with a particular style or approach in mind. I just made an effort to shoot events and details the way they presented themselves in an editorial fashion. I have continued to approach weddings in the same way. I don't think that my style is necessarily noticeable. It is primarily documenting the moments and relationships at a wedding. It's capturing real life!"

Photograph The Unexpected

Life is full of surprises and weddings are no exception to it. So, anticipate the unexpected and be ready to frame the twists in the perfect story telling. Jen and Stephen Bebb make the following commentary on photographing the unexpected. "The unexpected events and moments often provide great photo opportunities and being ready to catch such moments is the hallmark of a professional wedding photographer."

Develop your own style

One thing is common amongst all the professional wedding photorgaphers. They all have their own unique style to cover the event. This accounts for their USP. Learning and taking inspiration from the others is the key to growth as the photographer but telling the story in your own unique style is what makes you the client's word-of-mouth.
Feel free to add the missing tips, techniques and ideas from your favorite wedding photographer.