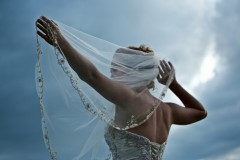 Portrait photography and posing go hand in hand. And as soon as you mention the word "pose", the mind plays smart tricks for your subject to prepare for the picture-perfect shot. Stiff body, plastic smile and fake expressions — this picture-perfect shot has everyting except for The Natural Look. The very thought of posing for the photograph alarms the mind, raises the self-consciousness and prepares the subject to be a different person altogether. This however contradicts with the very purpose of portrait photography, i.e., representing the personality of people in the photographs. And as Matt Taylor says in one of his posts, "Your subject won't know how to pose, handle their hands or what expression to make – that is your job as the photographer", it really is your job to capture your subjects true "self". So, quickly check out these 5 tips for photographing natural looking portraits.
Pose The Hands

The body language speaks a lot about what's going on in your head. If you're feeling nervous, your hands show it off and if you're sad, your eyes speak it all. While each part of your body is expressive and speaks volumes about your personality, the hands and fingers communicate how the rest of the body is feeling. So, here are some quick tips to pose the hands naturally:

The first tip says: Do not pose the hands at all. Sounds strange! It's quite simple. Engage the model in some activity and let her communicate with his / her hands so that the hands automatically fall in place.
Lightly fisted hands for guys and elegant fingers of girls indicate relaxed, comfortable and casual poses.
If your subject is too conscious about the shot, it's better to make her relax and exclude the hands from the shot. Go in for the headshot or head and shoulders shot to hide the nervousness.
It is really difficult to get the hands right unless they have something to hold. Give your subject something to hold and see how the pose comes out naturally.
Things just get better when you decide to include the hands. And when you include the hands, bend the joints, i.e, elbows and wrists to give refined feel to the potrait. Also shooting the hands from the sides make them look slimmer and better.

Contextual Portraits: In Context Of What They Love To Do

One of the effective technique for photographing the natural looking portraits is the contextual portraits, i.e. placing the subject in context of what they do. This style of photography weaves a mini story and builds the character of the portrait; bringing out the unique qualites, talent, work ethics and so on. At the same time photographing people in the familiar location, with complimentary background and relevant props relax the people beyond imagination.

Relaxed Portraits In Familiar Surroundings

Just like contextual backgrounds work wonders, so is the case with familiar surroundings where the subject feels comfortable and relaxed. Instead of choosing an outdoor location, why not choose the home ground itself.

Activity & Props For Casual Look

Establish a rapport with your subject, engage them in some sort of activity — something interesting, crack a joke or talk to them about their work. All this makes room for casual air. People tend to forget the camera's presence when they get busy with what they love to do. Same happens when they have something to hold in their hands; may be pets or a musical instrument. Just engage them in whatever they love to do and sit back, observe and shoot them.

Capture Natural & Casual Expression

Casual expression is what a natural pose is all about. And here are some tips from Christina Dickson, a portrait photographer for poses that convey an easygoing attitude and casual expression.

Pull up a chair and casually seat the model and as Natalie Norton remarks, 9 out of 10 times, people are more relaxed and feel more casual when seated as compared to when they're standing for portrait sessions.
Leaning against the wall is a comfortable stance that instantly steps away the formal air of the photo-shoot.
Head slightly tipped back will generally give an attitude of "punk" and make flattering images almost all the time.
Feet hip width apart give a look of strength and when placed at different angles or heights (on a step, chair etc) give a better "balance" to depth.
If it bends, bend it. This goes for elbows, knees, wrists, etc. The bends and the body curves look elegant and graceful.
Last but not the least, learn to pose yourself. Mimic the poses in front of the mirror and practice them until you are comfortable.
Pack your bags ready with these nifty portrait photography tips. Happy shooting for capturing that naturally awesome look!