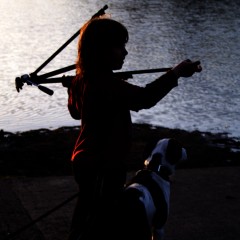 Tripods come real handy when shooting sensitive subjects that have zero tolerance towards shakes. There are times when you go slow on shutter speed and opt to photograph long exposures, in such cases the photos taken with hand held camera get blurred (due to camera shakes). Even a slight shake may ruin the perfect shot due to the lack of sturdy support. Supporting the camera with a tripod can help fix up the problem and achieve sharp results when slowing down the shutter speed.
Even though the tripods perform a very basic function of supporting the camera and providing a sturdy surface to it,  they are available in a wide variety of shapes and sizes, depending upon the composition and the requirement of a photographer. From a beginner's perspective, here are a few points to keep in mind when selecting a tripod.
Stability of a tripod.
Depending on type of photography you do.
Height of the tripod.
Weight of a Tripod.
Types Of Tripods
Full Sized Tripod: This class of tripod is often the choice of a serious photographer who use variety of cameras and long telephoto lenses for shooting pictures. They are best suited for medium format cameras or large format cameras.
Table Top & Mini Tripod: As the name suggest, these are small and lightweight pods which can be easily accommodated in your bags. Most apt for taking close-up pictures, self-portraits or group shots. You can fix it at the table top or other level surface when needed.
Compact Tripod: A compact tripod is similar to that of a full-sized tripod but comparatively lightweight. Without any difficulty you can fold it so that it can be placed in a valise. All in all, it is lightweight and fold-able.
Which Tripod Suits You The Best?
Basic Tripod: These tripods generally have non-removable heads and have variety of weight limits (3-5 pounds). Most of which have aluminum legs with plastic locks. Extended up to 50-60 inches and this pod can flex itself up to 25 inches. They are well suited for "Sunday drivers".
Tripod For Pros: For professional photographers such a pod will do it all. These are highly customizable tripods exclusively designed for the photographers who keeps  dabbling around with their photographic skills. They are usually sold as legs and head separately. Many tripods have adjustable legs. Tripods under this category weigh 4-12 pounds, extends up-to 60-75 inches and can be wrapped to anywhere from 22-37 inches very conveniently.
Traveler Tripods: Since these are specially designed for the people who travel distant locations, considering their ease they are lightweight and small-enough that they can be easily accommodated with other photography equipments. A traveler tripod is compact and light enough but can be extended to a reasonable height for shooting without requiring you to slouch. Customarily, these pods weigh around 2 ponds, extendable up-to 60 inches and can be folded adequately to around 16 inches.
Carbon Fiber Tripods: Carbon fiber tripods are about 30% lighter and noticeably more rigid than a tripod made up of aluminum. These tripods are very sturdy yet light in weight (3.5-4.5 pounds) and  reduces or deaden the vibration to a large extent, contributing to sharper images. Can stretch up-to 55-65 inches and fold-able up-to 20-25 inches very easily. These tripods are wonderful to work with, especially if you have to take them any great distance.
Last thing you need to do is saving your investment. When not in use, store it in a bag or something of a sort to avoid damages.
Manfrotto make sturdy and fantastic tripods and is one of the popular brands. If the jargon confuses you, just stick to a good brand and discuss with the salesperson. Manfrotto 055XDB is a basic tripod which is sturdy, portable and easy to carry. You can get Manfrotto 055XDB here.
Hope all of the above factors will help you in deciding which pod to choose and pick. What other factors do you consider when looking for a tripod?