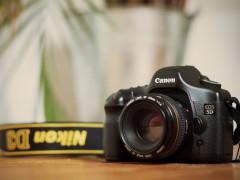 Nikon and Canon are hottest brands selling DSLRs. While Olympus, Pentax, Sony and Panasonic are also coming up with there offers, Nikon and Canon rule the market for professional photographers. Last week we had a chance to view the current Nikon DSLRs, in today's post let's have a sneak peak at what Canon has on its chart for photographers. Check out the list of the cutting edge Canons here.
EOS-1 DS (MarkIII)

This massive 21.1-megapixel full-frame CMOS sensor is the latest addition to high-quality professional cameras with a resolution of 5,616 x 3,744 pixels — large enough for even the most demanding professional and the highest resolution of any full-frame 35mm digital AF-SLR in the world.

EOS-1 D (MarkIII)

This piece of technology has been refined the EOS-1D Mark III's image processing with 8-channel reading and optimized its shooting sequence — to get more shots per burst than any AF digital SLR in the world.* The result is a blazing 10fps continuous shooting speed with 110 Large JPEG shots per burst and 30 RAW shots per burst**. Response also is enhanced by a startup time of approximately 0.2 sec. and a minimal shutter release time lag of 55ms, 40ms using Custom Function. What's more, the new shutter has a maximum speed of 1/8000 sec. and high speed X-sync at 1/300 sec.

EOS 5D (Mark II)

It is world's first compact full frame digital SLR. The EOS 5D Mark II boasts a new 21MP CMOS sensor, an expanded ISO range of 50-25,600 and a wealth of improvements and new features including full 1080p HD movie recording, live view, 3.0″ 920k dot LCD, DIGIC IV processor, increased battery capacity and sensor dust reduction

EOS 40D

It is a fair upgrade to EOS D30. It comes with a ten million pixel CMOS sensor with the same sort of dust reduction as the EOS 400D, an ultrasonic platform which shakes the low pass filter. Other improvements bring the EOS 40D closer into line with the EOS-1D series, these include a move to the same page-by-page menu system, both RAW and sRAW (2.5 MP), 14-bit A/D converter and 14-bit RAW, cross-type AF points for F5.6 or faster lenses, a larger and brighter viewfinder, interchangeable focusing screens, a larger LCD monitor (3.0″) and faster continuous shooting (6.5 fps).

EOS 50D

It is an upgraded version of EOS 40D. On the surface it looks almost similar to its predecessor. However, there are quite a few significant improvements; fifteen megapixel CMOS sensor, faster DIGIC 4 processor, 3.0″ VGA LCD monitor with Live View mode offering 3 AF modes, ISO sensitivity expandable to 12800 and an HDMI connection for high Quality Image viewing. 15.1-megapixel CMOS sensor. The APS-C sensor has a 1.6 conversion ratio that effectively increases the focal length of lenses for enhanced telephoto effects while allowing for a lightweight design. ISO ranges from 100 to 12800.


EOS 450D

It is 12 megapixel EOS 450D (Digital Rebel XSi). On the surface a very similar camera to the EOS 400D, however there are a range of significant improvements; twelve megapixel CMOS sensor, 3.0″ LCD monitor, Live View with both AF modes (contrast-detect and passive), 14-bit processing and RAW, spot metering, improved AF, 3.5 fps continuous shooting, a larger viewfinder, SD/SDHC storage and a new higher capacity battery. All in all a fairly impressive range of usage oriented improvements and refinements.

EOS 400D

This one is a 10 megapixel EOS 400D (Digital Rebel XTi). Headline new features include the ten megapixel CMOS sensor (up to ISO 1600), a new dust reduction system, nine area auto focus, Picture Styles, a large 2.5″ LCD monitor which now also provides shooting information (the second control panel LCD is gone) and better continuous shooting buffering.

EOS 1000D

This one is a 10 megapixel digital camera, known as the Digital Rebel XS in the US, takes many of the new features of its big brother (10.1-megapixel CMOS Sensor, DIGIC III processor, fast shooting and more, a 2.5-inch LCD monitor) and presents them in a lighter, less expensive format that Canon hopes will re-shape the market in the same way as the first Rebel (300D) did.
Which one do you own?