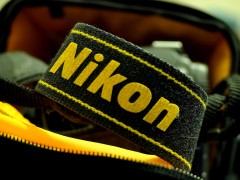 If we heard it right, Nikon may be about to release it's first entry-level FX anytime now. I looked it up when my D80 went kaput a few days back because of moisture. I had already convinced my wife for a new camera when it magically came back to life and diluted my chances of getting a new FX anytime soon.
Nikon D600 Specifications
D600 is expected to be a 24MP sensor powered by EXPEED 3 processor. It's shutter life span is supposed to be 150,000 cycles. The maximum shutter speed would be 1/4000 sec. It is likely to feature 39 point auto-focus system with face recognition, 5fps in continuous shooting mode, 3.2-inch LCD containing 921,000 dots with automatic level adjustment. It will also have a 16 bit image processing ability (don't know if it means 16-bit RAW (NEF) files though). ISO range would be like ISO 100 to 6400 expandable to ISO 25,600. The viewfinder of D600 would have 100 % coverage (FX) and 97% coverage (DX). Talking of the flash, it will definitely have an on board pop-up flash with 1/250th sec sync speed. Keeping all these specs in mind, D600 seems to be designed to offer high dynamic range and better image quality.
Build
D600 would be smaller in build, size and weight, similar to D7000. The weight of D600 would be 760g (850g with battery and media card). The build would be of magnesium alloy in the back and top sides of the camera, while the remaining surface would be traditional plastic body with weather sealing in it.
Other Bells & Whistles
Input and output ports on the D600 would be USB 3.0, HDMI output, stereo headphone jack, stereo mic input jack, GPS/remote input jack, built-in mic (mono). D600 would have internal intervalometer with automatic movie creation. Its sensor would be a CMOS 36X24mm self cleaning sensor (vibration-based). D600 would have 2 x SD Card Slots(UHS-1 SDHC/SDXC). Nikon D600 would have 30 minutes of video recording. D600 would have built-in picture editing tools (with RAW editing capability) with 19 scene modes. D600 would be able to record HD videos in 1920x1080p with the speed of upto 30 fps, 720p video upto 60 fps in the format- H.264 MPEG-4 codec.
Nikon D600's official announcement is expected on 13 September 2012, aptly timed right before Photokina 2012 to be held in September 18-23 in Cologne, Germany. Price for D600 is expected to lie between $1500 – $2000. Time to save-up if you've been waiting for an entry-level FX.
There's no official word about the D600 from Nikon yet. That gives us another chance to let the impact of a "rumor" sink into our gear-happy anticipations.
Update: Nikon D600 was officially launched on the anticipated day, i.e., 13th September 2012. Check out the technical details & specs of Nikon D600 here.