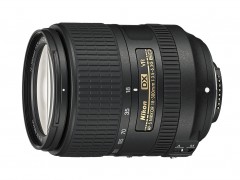 Nikon has launched the successor of the original AF-S DX NIKKOR
18-300mm f/3.5-5.6G ED VR. This lens is for all the photographers who wanted a compact and lightweight solution with a better range of focal length.
The Nikon 18-300mm VR (16.7x zoom lens) was announced on 10th April 2014 and will be available in the market from May 2014. This lens is available for pre-order at Adorama and Amazon.
As compared to older Nikon 18-300mm, the newer version has got better specs while being daintier and smaller. The newer version is also light on your pocket; it comes $100 cheaper than the previous version — not really a good excuse to buy this lens (more on that later). With that said, let's take a look at the specs of this lens.
Price Range

The good thing about this lens is that as the lens has become lighter, the price of the lens has also come down. The previous lens was available for $999.95, the new version is priced at $899.95. The price of the new lens includes a LC-67 Snap-on Front Lens Cap 67mm and a LF-4 Rear Lens Cap. And this lens comes with a 5-year warranty (in USA).

Compatibility

Being a DX lens, Nikkor 18-300mm is compatible with Nikon DX cameras. If you are planning to buy this lens for your FX model, there are chances that the images may suffer from the darkened edges and will definitely be in the DX crop mode.

Specifications

Before we discuss all the specifications, let's demystify the jargon. It is an all in one telephoto zoom, which is called AF-S DX NIKKOR 18-300mm f/3.5-6.3G ED VR where,

AF-S refers to Auto Focus- Silent Wave and helps in avoid lag time while switching from auto focus to manual focus.
DX refers to the compatibility of the lens with DX cameras.
18-300mm denotes the minimum and maximum focal length (as you already know).
f/3.5-6.3 refers to the maximum aperture of the lens.
G states that there are no aperture ring. It is automatic.
ED means you have an extra low dispersion glass.
VR stands for Vibration Reduction. This lens has got VR that provides 4 stops of stabilization.


Sharpness

The VR helps you get razor sharp images by compensating for the mildest shake. The old Nikon 18-300mm VR provided great sharpness in the pictures, but this one is expected to be better.

Diaphragm

It has a round 7-blade diaphragm for normal background blur.

Optics

It has got 16 optical elements in 12 groups. There are three extra low dispersion and three aspherical glass elements.

Focal Range

It provides the same focal range as a 27mm to 450mm equivalent in the FX/35mm format; just that it is available for DX cameras.

Auto Focus

Auto Focus uses Silent Wave Motor, which uses ultrasonic vibrations, not a gear system. It gives you silent, accurate focus.

Filter Thread

It has a 67mm filter thread and has the same functionality as the old Nikon 18-300mm DX lens.

Aperture Range

The aperture range is from f/3.5-6.3 as compared to f/3.5-5.6 for the older version.

Angle of View

The angle of view ranges from 76° to 5° 20′.

Size & Weight

This lens weighs about 19.4 ounces/550 grams and the size is 99mm x 78.5mm. This is one of the key features of the new lens as it is around 9.8 ounces lighter than the previous model of Nikon 18-300mm VR lens (29.2ounces/828 grams) but with better specs.
This lens is for all the hobbyists and professional photographers who always opted for Nikon 18-200mm owing to its versatility and light-weight.
My old Nikkor 18-200mm serves me perfectly and when it is time to upgrade, I am upgrading to FX — one key reason why you shouldn't really invest in DX lenses any more (unless you really see a good return of investment). Are you buying one?