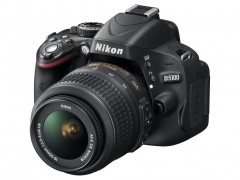 While the market of rumors is setting stage for the upcoming Nikon release most probably in form of D4 and D800, here we are looking at the features of the newest member in Nikon DSLR lineup — Nikon D5100. The Nikon D5100 is a 16.2 megapixel DX format DSLR F-mount camera announced by Nikon on April 5, 2011. Looking at the technical specs and list of features the camera offers Nikon D5100 seems to hold good promise for photography enthusiasts.
Priced at $899.95 approx., this mid-level DSLR shares the feature-list with Nikon D7000 and improves upon Nikon D5000 with a set of advanced features. Nikon D5100 carries forward the legacy of Nikon D5000 with major improvements in low light performance, HD video capabilities, fully articulated LCD screen and high image quality. As far as the image quality is concerned, Nikon D5100 employs 16.2 MP CMOS sensor and EXPEED 2 image processor (same as that of Nikon D7000) which delivers image quality quite similar to that of Nikon D7000. With that said let's have a quick look at the key features of Nikon D5100.
Key Features Of Nikon D5100
Sensor: As mentioned above Nikon D5100 employs 16.2 MP CMOS sensor and EXPEED 2 image processor (same as that of Nikon D7000) which delivers image quality quite similar to that of Nikon D7000.
Lens Compatibility: Like Nikon's other consumer level DSLRs, D5100 does not have an in-body autofocus motor. Thus, to take advantage of fully automatic autofocus, you will need a lens with an integrated autofocus-motor like the Nikkor AF-S and AF-I type lenses. With any other lens the camera's electronic rangefinder can be used to manually adjust focus.
Viewfinder And LCD: Similar to D5000, Nikon D5100 features eye-level pentamirror single-lens reflex viewfinder with approximately 95% frame coverage and .78x magnification. As far as the LCD screen is concerned, Nikon D5100 features a 3 inch 921,000-dot horizontal swivel LCD (as opposed to 2.7 inch 230,000 dots vertical swivel introduced in D5000). This fully articulated vari-angle LCD makes it possible to shoot with front-facing camera thus enabling you to photograph self-portraits with ease.
Noise Performance: This can be considered as the major area of improvement of Nikon D5100 over D5000. Nikon D5100 provides a wide ISO sensitivity range — ISO 100 to 6400 that is expandable to Hi 2 (ISO 25600 equivalent). This ensures that the camera produces crisp and sharp images even in low light or at night.
File Formats: If you prefer to shoot in RAW, Nikon D5100 wins over Nikon D5000 as it enables you to shoot 14 bit NEF in compressed form and helps you capture most of the information in the scene including dynamic range of light and color depth.
Special Effects Mode: Nikon D5100 features a special effects mode which allows you to apply the filters and special effects in the camera at the time of shooting itself. Just select the effect you want to apply and the camera will take care of the settings required to create the effects like silhouettes, low key and high key image, miniature effect, color sketch, selective color and night vision.
Built-in HDR Mode: In addition to special effects mode, Nikon D5100 also features a built in HDR mode. In this mode, the camera captures two exposures and merges them to form a single image which reveals a wider dynamic range. But this feature seems to be useless as no one would like to rely on this intelligent machine to process HDRs. Most of the users are already condemning this feature. Want to check out? Head on to Flickr discussion on New Nikon D5100 – Built in HDR mode – Cheating?
Comparison With Nikon D5000 And D7000
Nikon D5100 is being viewed as D5000 replacement. In this respect it preserves all the features of D5000 like providing 11 focus points, supporting 4 frames per second in continuous shooting mode and a shutter speed ranging from 1/4000 sec to 30 sec in steps of 1/3 EV. It however beats Nikon D5000 with fine quality image reproducing ability (by featuring 16.2 MP sensor powered by EXPEED 2 processing engine) and RAW format capable of producing 14 bit NEFs, wide range of ISO and maximum image size up to 4928 x 3264. Apart from this Nikon D5100 also supports SDXC cards for storage which allows you to store upto 2 TB data and features some additional in-camera editing features which makes the camera a creative tool in the hands of beginners.
While Nikon D5100 proves to be superior in performance to Nikon D5000, it still fails to match up with the professional features offered by Nikon D7000 like lossless 14-bit NEF, 100% frame coverage, wireless flash control, 39 point AF system, 6 frames per sec in continuous mode, a fast shutter speed ranging upto 1/8000 sec and an internal auto focus motor. Barring the professional features offered by D7000, the technical image quality of both the cameras is superb.
Overview
As an inference from the above discussion one thing that sets apart Nikon D5100 is its capability to reproduce high resolution images with rich tonal gradation equivalent to those of a higher-class model like D7000. If you are a newbie and your budget allows you invest in a mid-level camera enriched with advanced features, this camera is an ideal equipment to begin with. It's amazing picture quality and video capabilities will take you by surprise (Check out the hot deals on Adorama for Nikon D5100). But if you are an advanced photographer, there is nothing like Nikon D7000 (the talk of the town for professional photographers).