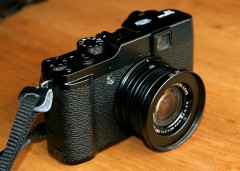 With Fujifilm Finepix X100 already hitting the chart-busters owing to its amazing picture quality, now it's time to witness the advanced features and high end performance of the successor in Fujifilm X-series — Fujifilm Finepix X10. Fujifilm Finepix X10 is an advanced compact camera targeted at sincerely promoting the tagline of X-series — Take your passion for photography to the next level. The camera is a refined example of design, style and quality. Fujifilm X10 features 2/3″ 12 MP EXR CMOS sensor powered by EXR processor which renders enhanced sensitivity, minimal noise and high speed performance. This marks the beginning of the story of this modern classical. Here are 5 ultimate reasons (features) to fall in love with this finest example of Fujifilm's craftsmanship.
High Quality Lens

Fujifilm Finepix X10 comes packed with Fujinon 4x optical zoom with its zooming range varying between 28mm wide to 112mm telephoto. To ensure high image quality, Fujinon has worked really well on providing quality optics. The lens design incorporates an arrangement of aspheric lenses, ED lenses and high-refractive index lenses which are treated with Fujinon's Super EBC (Electron Beam Coating) to deliver sharp images while eliminating the possibilities of chromatic aberration and other lens flaws.

High Precision Viewfinder

The bright viewfinder featured by the camera makes it a pleasure to look at the world through it. It's optical zoom viewfinder offers superior brightness, a superb field of view and 85% frame coverage which enables you to view and frame every detail of the scene with precision.

Nothing Less Than Perfect Ergonomics

On the design front, Fujifilm Finepix X10 can be classified as the luxury camera with enhanced operability. It can be viewed as the most thought out piece of craft where everything right from the dial control to one-touch control function and RAW button all fall into the place. The intuitive design of X10 makes it an easy to use tool for photographers. It's precision-milled ring and dials, die-cast magnesium top and base and leather like finish not only renders style. These design elements take the durability of the product to top notch.

Exciting Shooting Modes

Fujifilm Finepix X10 is a premium compact camera which features exciting shooting modes. Ranging from ready to use auto modes to highly sophisticate manual mode, the camera provides the users with multiple options which simplify the process of taking great photographs. Along with providing auto-modes for photographing the portraits, landscapes, macro-shots, night scenes and sports, Fujifilm Finepix X10 provides the auto-modes for tricky subjects / scenes like fireworks, sunset, snow, beach, flower and underwater as well. Taking of the manual modes, the camera provides the semi-auto modes (Program, Aperture Priority and Shutter priority) and full manual mode as offered by DSLRs. Alongside the the camera also provides the advanced modes for creating 360° panoramas and photographing shallow DOF without having to set the sweet spot manually. The options don't end up here. The camera also shoots in RAW format and features in-camera RAW processing to truly take your passion of photography to the next level.

Film Simulation Mode

The camera offers a film simulation mode which enables you to simulate the colors and tonal quality of color reversal film types loved by professional photographers. It provides three modes — Provia for natural colors, Velvia for vibrant colors and Astia for soft look; to get creative with color photography and 4 in-built filters for replicating the effects of monochromatic film photography. The classic look of these modes is also achievable through bracketing as well. Along with the specific film simulation modes, the camera also features film simulation bracketing through which a single exposure produces three images of the scene with Provia, Velvia and Asia effect respectively.
All these features together make Fujifilm Finepix X10 a creative tool in the hands of a photographer. Other features which make this camera the talk of the town are:
Amazing low light performance with ISO sensitivity extendible upto 12800.
High speed performance allowing you to capture 10 fps in continuous shooting mode.
Dreamy soft focus effect achievable due to adoption of 7 blade aperture diaphragm.
Electronic horizon leveling guage which makes it easy to align the image with the true horizon.
Power packed with a host of features and the promise of delivering superb picture quality, you can bring home Fujifilm Finepix X10 for $599.65 approx. Get it here!