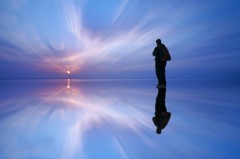 Camera filters have been all time favorite accessories for the photographers. Either for enhancing the color of blue skies or for capturing the dynamic range of the scene or for getting that soft focus hazy dreamy effect in portrait photography, filters come in handy for adding a flair to your photographs.
While landscape photographers prefer using polarizers, GNDs and neutral density filters and glamour photographers apply soft focus filter to soften skin details, textures, blemsihes, etc, there are a host of special effect filters to add some cool, bizarre and whacky effects. Check them out here!
Star Filter

Have you played around with the aperture f-stops to create the sun-stars or the star-light effect? You can get the star light effect by photographing the source of light at small apertures. This results in scattering of lights from the light source, forming beautiful star like formations of the diffracted lights. You can however get prominent star-lights by using cross screen filters also known as star filters. The cross screen filter contain a series of thin lines etched on the flat glass which diffract the light entering the lens, thus generating the diffraction spikes resembling the sun-stars (as in the image below). You can pick one from here — Hoya Cross Screen Filters.

Split Field Filter

The very mention of split field filters remind me of Jim Richards's article titled Out Of Focus — On Purpose. It is a fact that photographers love to get the things out of focus intentionally — leaving just the subject in focus to stand out dramatically from the surroundings. While the most popular technique for getting things out of focus is shallow depth of field, using a split field filter is also a good option. Split field filter is the glass fitting which has one-half of a close-up lens with the other half open. Accordingly one-half of the picture receives a close-up effect while the other half is normal. This can however be used for setting one-half of the picture to be out of focus for special effects.

Intensifier Filter

If you love to capture vivid, saturated colors investing in the color intensifiers is not at all a bad idea. The intensifier filters intensify and enhance specific colors without affecting the other colors. Hoya's intensifier filter for instance enhance red, orange and brown subjects which can be used for accentuating the architectural works or for enhancing foliage and rocky features in landscape photography. Learn more about Hoya's intensifier filters here.

Radial Zoom Filter

Cokin calls it a radial zoom filter, while Hoya ships it as center-spot filter. Whatever you call it, these filters are variations of diffusion filter. These filters are designed with either a hole or a flat or a clear glass in the center and diffused outer ring. The center thus produces a clear image and the outer ring blurs the details. While Hoya and Tiffin manufacture the filters which simply diffuse off-center details, Cokin's radial zoom is designed with a set of densely arranged concentric circles. The radial zoom filter thus spreads the incoming light into a trace of light and generate a more noticeable effect. The effect generated by Cokin's radial zoom filter is quite similar to the zoom effect acheived by rotating the zoom ring. Get it here.

Multivision Filter

Multi-vision filters are good at creating multi-vision illusion in-camera. The multi-vision filter helps create fantastic combinations of multiple images of the subject. The effect looks cool for some subjects while for others it may produce funny results. A multi-vision filter is primarily made of optical glass precisely cut into a variety of facets. The multi-vision filters offered by Hoya are available in various variants. Simple multi-vision filter ( with varying facets as 3PF, 3F, 5F, 6F, and 6PF), color multi-vision (with a distinct color for each facet) and vari multi-vision for instance. These filters produce the dynamic professional multi-images often seen in TV or commercial photography.
Which one is your favorite? Feel free to add one if it is not on the list.