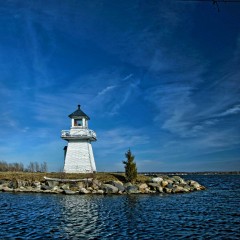 Edge burning, as the name suggests, is the technique of burning or darkening the edges of a photograph. The primary purpose of darkening the images along the borders is to guide the viewer's attention to your center of interest. In the process of darkening or burning the edges, the photographer eventually introduces the tonal congruence across the frame, which avoids the wandering of eyes out of the frame.
Edge burning is a traditional darkroom technique frequently used by Ansel Adams to create captivating prints. The technique is further explained by Ansel Adams through the book titled "The Print", wherein he mentions edge burning to be an effective technique for strengthening the composition of the photograph. The technique applies well to digital age as well. In the process of darkening the images, the basic exposure of the photograph is reduced along the edges either at individual corners or simultaneously to all the corners; to darken the corners more than the central portion of the edges.
The essence of edge burning as acclaimed by Ansel Adams, lies in the subliminal enhancement and subtle re-touching, so that the viewer should not be conscious of it. In the age of film cameras, edge burning was much of a task while the process is simplified when using dodging and burning, luminosity painting, gradient tool and similar techniques in Adobe Photoshop, Lightroom, etc.
Edge burning helps in making the photographs interesting and attractive. It adds depth to the flat images and saturates the colors as well. Check out in the following example.
Ansel Adams proclaims that mostly all the photographs require edge burning. Have you experimented with edge burning yet? Feel free to share your results here.