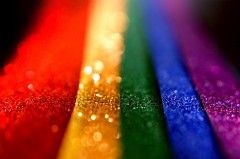 What makes the photograph great? Colors, tones, mood, dramatic light, special image effects, impressive subject and the list goes on. There are a number of things that come to mind while speaking of the elements that make spell bounding images. But one thing that goes a long way in making a mark with your photographs is the underlying structure or the composition — the way various elements are placed or arranged on the photographic frame.
Colors, lighting effects, an impressive subject do create the mood of an image; but the strength of an image lies in the way you compose your shots. The photographer's foresight and effort all shows up in the his art — the photograph. It is not always about capturing the right moment at the right time, it is about assessing the scene, taking the test shots, working the shot and getting the final images that simply grabs the viewer's attention.
So, what do you need for making the great shots happen. It is a matter of practicing four simple compositional tips listed below.
Remember, the composition is the single-most critical element that will differentiate your photography style from thousands of other photographers out there. So here's a bonus tip: focus on developing your composition. And to do that shoot in black and white. Once you have mastered the basic composition techniques, check out the compositional rules and elements for excelling at the art of photography.