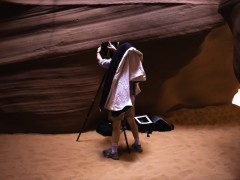 We've come a long way since we started. And keeping in mind the feedback we received and to address the growing fan-ship of the site we've redesigned the site. During the process we experimented with dark themes which usually are used to showcase photo-blogs. However apnphotographyschool.com is more than a photo-blog. It is a place to learn and share tips about photography also. Thus with all these things in mind we made subtle changes to the basic site layout. To add an artsy touch we used some grunge design. Please share your inputs about the design with us.
Another feedback we received – a need to share the photographs with our blog community. Time and again we were asked by you if there was a way to share the photographs with us. Well we just launched the APN-Readers Flickr group. A slideshow from the same is embedded into the sidebar. So all the photos in the group-pool will be a part of the slide show. Feel free to share the links to your Flickr photographs with us. They don't have to be perfect, ask for feedback or criticism on your art work, share with the community – that's what this group is all about.
Going forward we'll hope to bring you more features as well as articles rich in the subject area. If you have not subscribed to the blog yet now would be a good time to do so. Do remember to join our Flickr group too. As always we are feedback hungry and if you have any specific inputs about the site design or the Flickr group, don't wait.