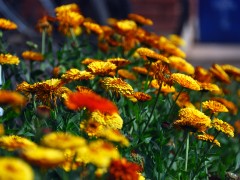 Last week we started APN Assignment as a brand new feature on APN Forums. Our very first assignment was Beautiful Flower Photographs. It was good to see so many photography enthusiasts and hobbyists participating in the assignment to share their beautiful pictures. Flower portraits, floral fields, fine details — all the submissions were distinctly beautiful. We would like to take an opportunity to thank APN readers and forum participants for the overwhelming response. We had a tough time deciding on which entries to cover. Finally, here are the picks as per our choice — beautiful flower photos submitted in Beautiful Flowers Assignment.
1. Water Lilly by Kimmyvic [Would love to see it without border. Can't help saying that this could also go well with a complimenting background]


2. Orange Gerberas by Nettyand [Picture perfect, ready for stock photography site]


3. Amazing Scarlet Red Flowers by Nettyand [Great color combination]


4. Water Flower by Chris Munch [Beautiful composition, tones and water droplets]


5. Lily by Picturethisbytom [Beautiful composition and colors]

Thanks for participating in the assignment! Which ones do you like?