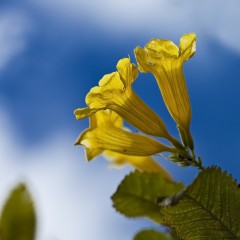 One of the photography composition techniques for drawing the viewer's attention is perhaps simplicity. Instead of including the entire scene with conflicting subjects, try minimalism, the art of framing the subject that stands out distinct in its own space. This is where negative space comes into the picture.
Negative space is the free / empty space around the subject of an image, perhaps occupied by smooth, blurred or soothing background which does not compete with the subject. This space can be creatively used for emphasizing the aesthetics of the subject. The negative space is used by artists; be it photographers, painters or designers to balance the composition and to present the frame in such a way that the viewer's interest is drawn towards the center of interest. The inclusion of negative space in the photographs provides a place for your eyes to rest. It is as important as the positive space, the space occupied by the subject and the frame (arrangement of elements) itself.
If the primary purpose of photography for you is to make money with photography by offering the photographs for various artworks and to offer them as stock photographs, using this technique effectively becomes far more important. The designers and advertisers prefer to pick and choose the photographs which convey the emotions, sentiments and provide space for spreading a message. The negative space used by the photographers offer the space for inserting textual elements, which help in rendering value to the photograph and heightens the impact of the text message ta the same time.
Negative space is an effective technique if used properly. You have to ascertain the balance and overall framing before applying negative space to ensure that the photograph looks pleasing. You have to introduce the empty space in the photograph in such a way that it compliments the subject aesthetically and adds value to the subject. For example, capturing a portrait looking towards the sky and including only the portrait and the skies in the photograph portrays hope or perhaps loneliness depending on the expression of the portrait, colors, tones and angle of the shot. In any form, the space which you include in the above scenario helps you in emphasizing the emotions of the subject thus, providing you an opportunity to draw the viewer's attention towards the subject. The essence of using the negative space thus lies in creatively using the space around the subject to give it a distinct meaning. Here's a quick list of tips which can help you in using the negative space effectively and creatively.
Keen observation.
Exclude the distracting elements in the scene to maintain simplicity.
Attaining shallow depth of field to blur the background clutter and thus present the subject against the complimenting hues.
Avoid including conflicting subjects, in fact try to be minimalist in your approach and focus on only one subject.
Convey the emotions or sentiments.
Have you tried including negative space? Share your results with us.